2 years ago, Camden declared a climate and ecological emergency. Please join to hear what has been done to ensure we are on track.
About this event
Just over 2 years ago, Camden Council declared a Climate and Ecological Emergency, with an ambitious 2030 Net Zero carbon target. A Citizen's Assembly and publication of Camden's Climate Action Plan (2020) followed.
Shortly after the declaration, Dartmouth Park Talks hosted a discussion with Council leader, Cllr Georgia Gould, as well as Cllr Sian Berry (Green), Roberto Weeden-Sanz, (Barnet Conservatives), and Farhana Yamin (climate lawyer and activist), our co-convenor. This helped stimulate action by Camden Council.
At this session, we will follow on from that discussion, hearing once again from Cllr Georgia Gould, Farhana Yamin and also Green Assembly Member, Zack Polanski. We will discuss:
a) the extent to which Camden on track to meet it's Net Zero by 2030 goal and it's wider climate and ecological ambitions. Has real progress been made? What are the impacts of the Citizen's Assembly?
b) the international context in particular COP 26 as well as the economic downturn relating to the Covid pandemic.
c) Building Back Better including Camden's Renewal Commission. What are the opportunities to revive our local economy whilst also helping deliver net zero?
All are welcome to come along. Meetings are currently on Zoom. They are free but donations welcome to cover our costs.
Dartmouth Park Talks website can be found here.
Dartmouth Park Talks is a series of discussions and dialogue bringing local people together to explore the challenging issues of our time: from climate change to feminism.
We seek to make the most of the wealth of knowledge and experience in the area and around it including film-makers, journalists, writers and politicians and many others. We recognise the value all can bring to shaping the ideas and action we need for change.
Please come along to learn, discuss, debate or just listen. Our talks are informal and friendly.
Co-convenors: Farhana Yamin & Maya de Souza.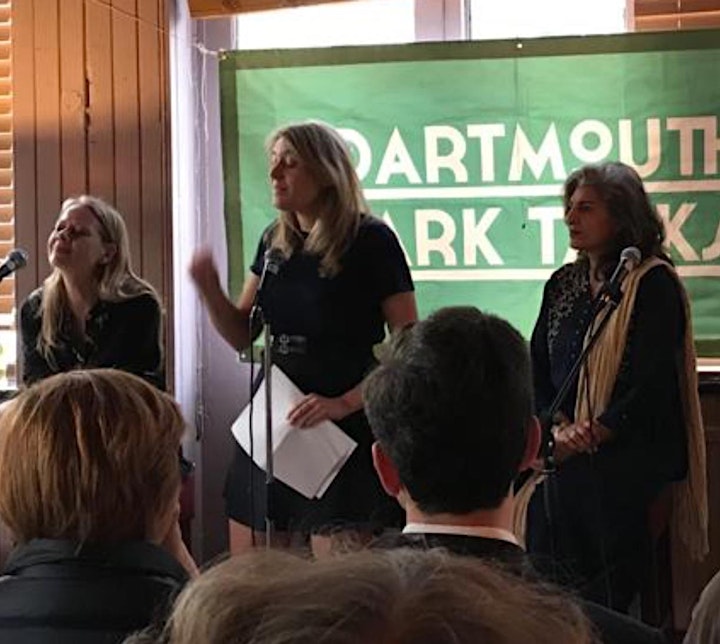 Organizer of What progress towards Camden's Climate & Ecological Emergency goals?