What to do, NOW? What decisions do we need to make? HOW do we make them, better? Join us for a Virtual Panel Discussion + Bonus Group Convo
About this event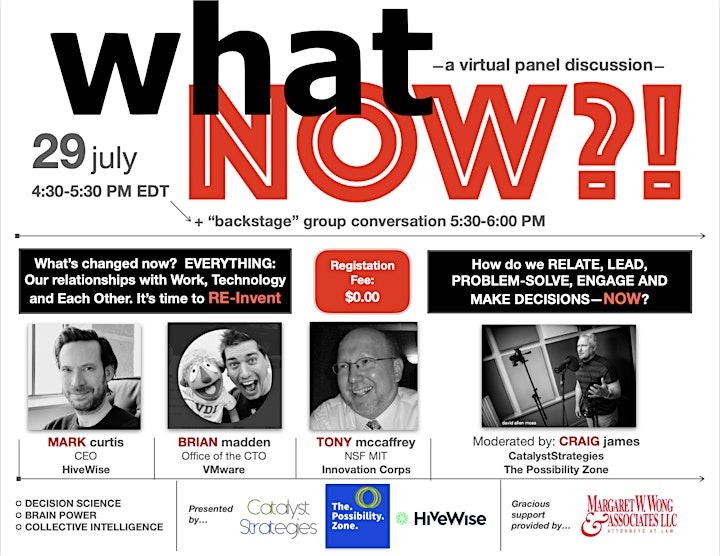 ---> HOW TO ATTEND THE PANEL DISCUSSION AT 4:30 PM EDT:
PART-1: 60-Minute Live Video Panel Discussion/Webinar:
The Panel Discussion is a LinkedIn LIVE Broadcast. Please click the link, below @ 4:30 PM EDT. There may be a slight delay before the LIVE Broadcast actually reaches your computer screen:
HERE'S THE 4:30 PM EDT LINK:
https://www.linkedin.com/events/what-now6820384711332909056/
---> HOW TO ATTEND THE BACKSTAGE ZOOM CONVERSATION @ 5:30 PM EDT:
PART-2: +30-Minute Zoom "Backstage Conversation". Participate as Video Attendee + Co-Conversationalist via Zoom. The Zoom Conversation will be Recorded, but will *not* be broadcasted, live.
HERE'S THE 5:30 PM EDT LINK:
https://us02web.zoom.us/j/86891359246?pwd=TVYzd0RWUW8xaVFzS0c4WGVaQjZRZz09
Attend PART-1, PART-2, or Both. Up to you.
EVENT THEME:
Much has changed (no shocker to anyone). It isn't the same. It won't be the same.
New Dilemmas, Dichotomies and Decisions face us in this moment of history.
It is time to RE-Invent.
What do we do -- NOW? How do we make critical decisions as we look to the future? How do we leverage technology--and to what extent should we not depend on technology? Some tasks are performed quite well by computers--other things, not so much. When do we depend on technology and when should we use it wisely to improve human systems and decision making?
How can we lead and engage our team(s) in increasingly meaningful ways toward transparent, participative decision+solution making?
Join us on July 29th @ 4:30 PM EDT for a fast-paced Virtual Panel Discussion + Bonus ("backstage") (also Virtual) Group Convo.
Register Now. FREE Event (Donation option available).
--> Login/participation credentials will be emailed to you days in advance of the event.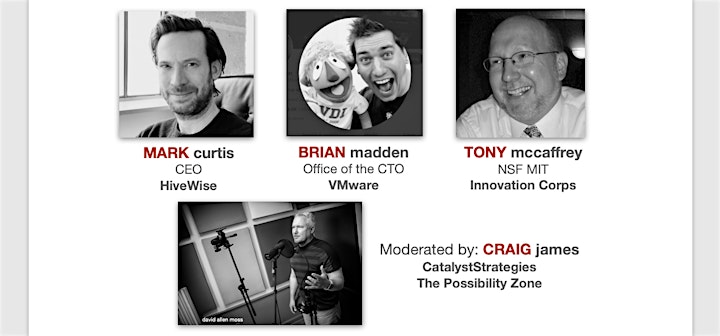 OUR PANEL: Super Smart (and Funny) Gents...
MARK curtis is Co-Founder & CEO of HiveWise, a collective intelligence platform. He is one of the IT industry's first social media marketers. His firm, Branderati, was acquired by Sprinklr in 2014 and he launched key Sprinklr capabilities on behalf the company. Mark is currently advising a number of AI startups in connection with BPIFrance Le Hub as well as directing communications for the NASA Frontiers Development Lab. He is a speaker, advisor, coach and entrepreneur. The guy doesn't sit still.
BRIAN madden of VMware is proudly unfettered by formal education or training. He's a self-taught polymath. Currently he is in the End User Computing (EUC) Office of the CTO at VMware. Prior, he was an industry analyst and blogger and creator of the BriForum. He's written six books, thousands of articles and has given hundreds of speeches around the world.
TONY mccaffrey of the NSF's MIT Innovation Corps is an AI researcher and science-fiction writer who leans into sci-fi for ideas on new scientific discoveries. He is also a computational complexity theorist who authored the first mathematical proof that there is a limit to how creative a computer can be.

THE EVENT IS BROUGHT TO YOU and PRESENTED BY...
CATALYST STRATEGIES (a.k.a. Cat-Strat Services). The firm brings unique approaches to "strategy" in our modern times--where adaptation and agility are just as important as planning. RE-invention. RE-thinking. RE-setting. The firm advises organizations large and small. Profit and Non-Profit. The Co-Founders are Strategic Advisors & Executive Coaches. CRAIG james, Co-Founder of Cat-Strat moderates the July 29 program.
THE POSSIBILITY ZONE, a new Podcast coming to you late Summer 2021. The show is about what's possible--and how to get in to the "zone" of possibility. Strategies. Stories. Skills.
HIVE WISE, a company dedicated to helping organizations make decisions, better. HiveWise is a first-in-class collective intelligence platform designed to optimize the way organizations analyze complex problems, make better decisions and measure results. Based on twelve years of research at MIT, HiveWise is designed to put the power of collective intelligence and decision sciences to work for you.
Disclosure: Are HiveWise and Cat-Strat hoping to work with you and your team one day on strategy, repeatable/perfected decision making + help your organization RE-set thinking for the future? Absolutely. This said, the event is *not* a sales pitch in any way, shape or form. It's intended to provide intrinsic value, insights, ideas, perspectives and learnings.
THE EVENT IS SUPPORTED AND SPONSORED BY...

Founded and headquartered in Cleveland, Ohio, with offices in New York City, Chicago, Atlanta, Memphis, Nashville, Minneapolis, Columbus, and Raleigh, Margaret W. Wong & Associates, LLC represents and advises immigrants and companies on a wide range of complex United States immigration issues.