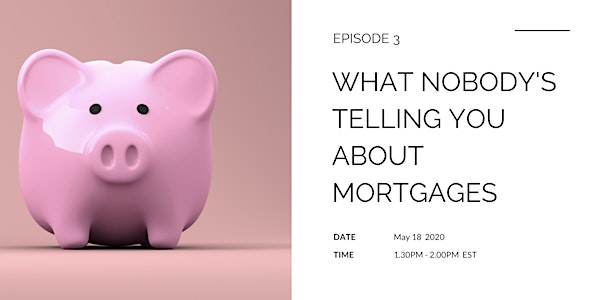 What Nobody's Telling You About Mortgages re: Covid-19
Not sure how to make sense of the mis-information in the headlines? We're exposing the truth about mortgage rates, deferrals, and more.
About this event
We're revealing secrets and key info about all things that you should know relating to financing and covid-19.
Moderated by Kim Wolfshout, a top Toronto real estate professional, this episode features Lina Zaya, experienced mortgage consultant. Join us as we provide solutions to challenges you might be facing.
In this e-session, you'll learn:
the fine print re: mortgage deferrals
details on up-to-date mortgage rates
what the pre-approval process looks like if you're not working as a result of covid-19
Now's a perfect time to get prepared, and arm yourself with the knowledge you need to succeed.
* We've got more episodes featuring other home experts lined up - check out our other events too*