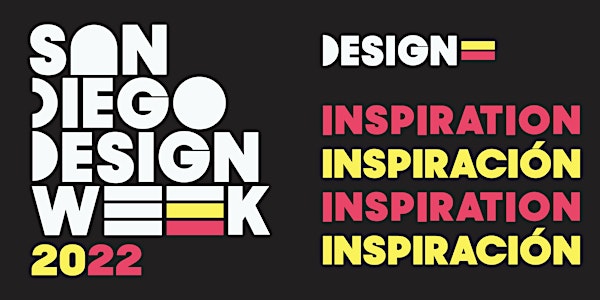 What Moves You: Traina's Day of Inspiration
Traina Presents: What Moves You? 5 Events to Inspire
When and where
Location
Mingei International Museum 1439 El Prado San Diego, CA 92104
About this event
Join Traina at the Mingei International Museum for 5 Events to Inspire focused on how brands move the world and inspire change with some of the creative industry's most active and influential brand leaders. The event will kick off with Keynote Speaker Erica Eng, followed by a Panel Discussion and Breakout Session. We'll conclude with an Evening Social celebrating with drinks, bites, music and creative professionals.
Attendees are welcome to sign up for the full day of events starting at 2:30 PM, however, you may register for one or more event individually. If you register for the All-Day Pass, you'll be registered for the Keynote, Panel Discussion, Breakout, and Evening Social. More details about each event can be found below.
Space is limited. Register today to secure your spot. If you are a student, we encourage you to register for our Portfolio Event HERE.
2:30 - 3:30 PM Keynote Speaker
Erica Eng, the creator of the films Americanized and Off Fairfax will share what inspires her and how it fuels her creative work. Virtual attendance is available for this event.
4:00 - 5:00 PM Panel Discussion
A panel discussion with industry brand leaders with a focus on why brands and people must move each other to move ahead. Final list of panelists will be announced soon. Virtual attendance is available for this event.
5:00 - 6:30 PM Breakout Session
Take part in a Breakout Sesh to learn from creative brand experts in 15-minute lightning rounds on key topics that inspire. Virtual attendance is available for this event.
7:00 - 9:00 PM Let's Keep It Moving Social
Continue the conversation and enjoy drinks, bites, and refreshments with local vendors, clients, SDDW organizers, and attendees, plus giveaways and a big announcement from the Traina team.
About SDDW Events
Registration is required to attend. If the event is virtual, upon registering you will receive an email with instructions to join the presentation via Zoom.
By registering, you agree to the SDDW Code of Conduct and Health + Safety Policy and the Photo + Video Release. See full details at sddesignweek.org/code-of-conduct and sddesignweek.org/policies.
The events of SDDW are independent events organized and presented by groups throughout the San Diego-Tijuana community. Contact information collected during registration will be used to provide regular communications about ongoing SDDW-related events and news, by both SDDW and the presenter of the event you've registered for.
Accessibility Notice:
Auto transcription closed captioning from Zoom is provided for this event. If you have additional access needs or accessibility questions, please email info@sddesignweek.org.
Learn more at sddesignweek.org.
Para español, consulta la versión en español del sitio de SDDW https://sddesignweek.org/es.