Description
Women Career Changers Roundtable
Thursday January 17
What Makes for a Really Good Business Idea?
The prospect of starting a business can be frightening. It is a risk and a tremendous opportunity, equal parts challenging and, hopefully, rewarding. Given the enormous risk that's inherent in entrepreneurship, many potential business owners will ask very difficult questions of themselves: Is this worth the risk? Do I have the right personality type to be running a business? And perhaps the most frightening: Is my business idea any good?
---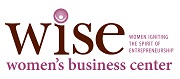 ---
Location: The WISE Women's Business Center is located in The Axa Towers Lobby, 100 Madison St. Syracuse, NY 13202.
Parking: Metered street parking is available on any of the surrounding streets. Pay by meters or Pay by new parking app "Whoosh".
The Hotel Syracuse Parking Garage (located at 199 Harrison St, Syracuse, NY 13202) offers parking for $5.00/day.
To use Whoosh!: Download the free app to your phone and register your vehicle's license plate and a credit card to which your parking payments will be charged.