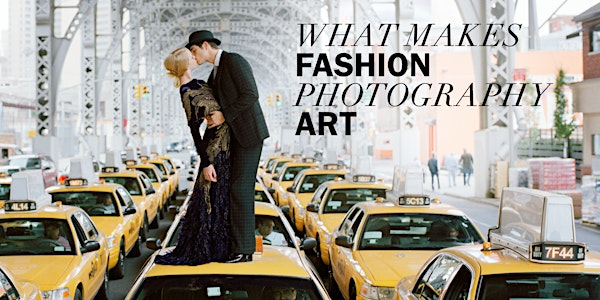 What Makes Fashion Photography Art
Join us, as Curator Paul Martineau hosts a discussion on photographs that transcend their origins to be collected by Museums.
About this event
What Makes Fashion Photography Art
Wednesday, December 8, 2021
Art enables us to find ourselves and lose ourselves at the same time. Thomas Merton
Paul Martineau, Curator of Photographs at the J. Paul Getty Museum has been one of the world's foremost advocates in acknowledging the importance and impact of fashion photography on our lives. "Fashion photography is now recognized as having produced some of the most creative photography of the twentieth century, transcending its illustrative function to yield images of distinctive artistic quality." writes Timothy Potts, the Getty's Director in the forward to Martineau's seminal book Icons of Style.
Leading the acquisition of Rodney Smith's photographs for inclusion in the permanent collection of the J. Paul Getty Museum, Martineau will host a conversation with Etheleen Staley, Founder, Staley Wise Gallery, Viktória Vámosi, International Model, and Dennis Freedman, Founding Creative Director of W Magazine to discuss what makes Smith's images transcend their original commission.
Rodney Smith (1947 - 2016) developed a unique photographic vision, one that is beautiful, ordered, and inhabited by well-dressed ladies and gentlemen. What sets Smith apart as an artist is his distinctive photographic vision coupled with his exacting technical precision, allowing Smith to blur the line between fine art and fashion photography. Smith's unusual combination of surrealism, style and wit is now being celebrated by the art world.
PANELISTS:
Dennis Freedman was the founding creative director of W Magazine. Freedman commissioned photographers who hadn't worked in fashion before or photographers who were interested in pushing against convention. "I'm looking simply looking for someone with something to say, something to add to the dialogue." Freedman made W the place to be. He held the post for nearly two decades, collaborating with photographers including Steven Klein, Juergen Teller, Philip-Lorca diCorci and Rodney Smith.
Paul Martineau is a curator of photographs at the J. Paul Getty Museum, Los Angeles. He received a B.A. in Art from the University of Massachusetts at Boston and a M.A. from the Williams College Graduate Program in Art History. Before joining the J. Paul Getty Museum in 2003, he held positions at the Museum of Fine Arts in Boston and at the Sterling and Francine Clark Art Institute. Mr. Martineau has organized more than a dozen exhibitions, including Icons of Style: A Century of Fashion Photography, which acknowledged fashion photography as art. He is currently authoring Rodney Smith: A Leap of Faith, to be published in the Fall of 2022. His has many seminal retrospectives include Imogen Cunningham (2020), Robert Mapplethorpe (2016), Minor White 2014), and Herb Ritts (2012), among others.
Etheleen Staley, along with partner Takouhy Wise, opened Staley-Wise Gallery in 1981 with an exhibition of Horst P. Horst photographs. "Etheleen Staley and Taki Wise were among the first to recognize fashion photography's importance and to take the finest images created by fashion photographers seriously as works of art." (Architectural Digest, September 1988). Staley-Wise Gallery works with museums, private institutions, and collectors worldwide and represents classic fashion photographers such as Lillian Bassman, Helmut Newton, Louise Dahl-Wolfe, Horst P. Horst and George Hoyningen-Huene as well contemporary fashion photographers such as Herb Ritts, David LaChapelle, Ellen von Unwerth, Patrick Demarchelier and Rodney Smith.
Viktória Vámosi is a Hungarian model born in Budapest, Hungary. She has modeled for L'Oreal, Harrods, Yves Saint Laurent and Hermes, graced the covers of Marie Claire, Cosmopolitan and GQ, and was the original host of Topmodell, the Hungarian version of America's Next Top Model. Viktoria had a close working relationship with Rodney Smith, and is featured in many of his photographs.
The Rodney Smith Archive provides access to and promotes further understanding of the artistic legacy of Rodney Smith. The Estate is the largest repository of Smith's work. Its holdings include Smith's photography collection and archive comprising final works, photographic and biographical materials, writings, studio equipment, and library. In addition to housing Smith's studio, collection, and archive, the house and gardens—designed by Smith and prominently featured in many of his photographs—provide an additional lens in which to contextualize his life and work. The Estate offers researchers, students, and scholars the opportunity to study primary and secondary sources related to Smith's photography practice.