What Kind of Citizen: Educating Middle School Students for the Common Good
Description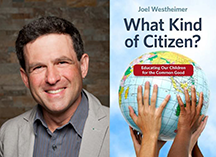 The New Hampshire Institute for Civics Education is partnering with the New Hampshire Association for Middle Level Education and the New Hampshire Historical Society to present this free day-long workshop for educators.
Joel Westheimer, author of What Kind of Citizen: Educating Our Children for the Common Good and Chair in Democracy and Education at the University of Ottawa, will offer the keynote address.
Westheimer received his Ph.D. from Stanford University and his B.S.E. from Princeton University. He is co-founder and executive director of Democratic Dialogue, a research collaborative dedicated to the critical exploration of democratic ideals in education and society. Westheimer's recent award-winning book is Pledging Allegiance: The Politics of Patriotism in America's Schools (foreword by the late Howard Zinn). He is also author of the critically acclaimed Among Schoolteachers: Community, Autonomy and Ideology in Teachers' Work. He's currently working on his third book, Restoring the Public in Public Education. He publishes widely in newspapers, magazines and scholarly journals. Learn more on his website.
Other presentations include:
Teaching Civic Virtues: Erin Mitchell of YMCA Achievement and Hudson Middle School, Hudson and Matthew Hicks, Headmaster, Shaker Road Middle School, Concord.
Teaching Participatory Citizenship: Hon. Landya McCafferty of the Federal Court in Concord and Barbara Tsiaras, middle school teacher from Bedford.
Educating for Advocacy: Derek Hamilton, Dean of Operations at Pittsfield Middle High School, and Jenny Wellington, Justice Committee teacher mediator, Pittsfield Middle High School.
In a Pinch cafe will provide breakfast, lunch, and coffee.