Description
What is creative web design? What kind of web design is pleasing to the eye? Once you start globally expanding, these questions are more difficult and complicated to answer.
D.Haus provides you an event to talk about the practice of global web design, focusing on the differences and similarities between Japan and the US.
Gain insights from btrax's 12 years experience in cross-cultural localization and design in San Francisco. This event will focus on web design trends, and how to utilize them for Japanese companies entering the US market and US companies expanding to Asia.
The main event is a speaker panel, and we will have a Q&A session at the end. Bring your questions and we're happy to answer!
If you are a web designer, this is a must-attend event for you. If you are curious or inexperienced, we would love to introduce you to web design! Not a designer? Love a cosmopolitan atmosphere? This is the place for you to explore how to implement design into your international work.
There will also be networking and an office tour. Food and drink will be provided.
Space is limited so please reserve your spot ASAP!
This event is a collaboration between btrax and Japanese Design Community in SF/Bay Area.
Event Schedule
6:00pm: Doors open
6:00pm - 6:30pm: Icebreaker
6:30pm - 6:50pm: Office Tour
6:50pm - 7:50pm: Speaker Panel / Workshop
7:50pm - 8:30pm: Networking
8:30pm: Doors close
Speakers
Joe Rong
Joe is Visual Designer at btrax. His career as Web Designer started in Guangzhou, China, where he grew up. After some work experience in the country, he realized he needed to expand his career as a global web designer. He decided to move to a city recognized for its fusion of tech and design, San Francisco. In Spring 2016, he earned a master's degree of New Media and Web Design after studying at Academy of Art University. His curiosity is not limited to Web Design, but also extends to video editing. Some of the projects he has accomplished include promotion videos for IKEA and Pepsi x Michael Jackson.
Brandon Hill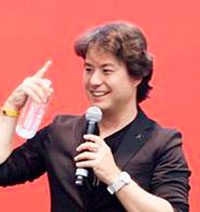 Brandon is the founder and CEO of btrax, a San Francisco-based design, branding and marketing agency specializing in US and Asian market entry and growth. In the last decade, he has helped companies such as Expedia, Blue Nile and Square enter the Japanese market. Brandon is also the founder of JapanNight, the premiere annual Japanese startup demo competition in Tokyo and San Francisco. He has spoken at a variety of conferences and events, including ad:tech, Tech in Asia and Social Media Week Tokyo.
About D.Haus
D.Haus is a new co-working space in San Francisco - connecting people through DESIGN.
Located in San Francisco's startup epicenter of SOMA, D.Haus is a comprehensive ecosystem of diverse companies, guest experts, mentors, btrax's deep network of clients and partners curated to drive collaboration and innovation.
Targeted events, workshops and social networking opportunities will aim to share cutting-edge knowledge and facilitate meaningful partnerships between startups and corporations through the vision of design.
Organized By:
btrax is a branding and marketing agency specializing in Asian market entry and growth. Their team has provided critical market research, brand localization and digital marketing for leading companies such as Expedia, Lumosity, Toys "R" Us, Square, Bonobos, Wix and Cisco. btrax also works closely with top brands from Japan such as Sony, Canon, Calbee, Rakuten, Softbank and Omron. Learn more about btrax: http://btrax.com

The group is for people who are interested in design in the U.S and Japan. We will cover all different aspects of design: including but not limited to UX, Industrial Design and Web Design. The group will meet every other month. Also we aim to provide educational and networking opportunity and to build a global design community.