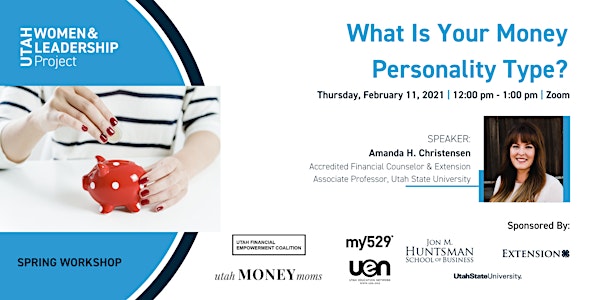 What Is Your Money Personality Type?
Join us for an engaging workshop focused on how money personalities directly or indirectly affect every money decision we make!
About this event
The Utah Women & Leadership Project invites you to join us for our first spring workshop of the academic year.
The year 2020 was a tough money year for many women and families. So, how can we come back in 2021 recommitted with an increased sense of purpose around money management? One way is to take a deeper dive into understanding your own money personality. Our money personalities directly or indirectly affect every money decision we make. Join Amanda for this engaging workshop to better understand what types of money personality you have. Each personality has strengths, but each also may have a downside you may need to curb. This one-hour workshop is for women of all ages and backgrounds who want help increasing their financial wellness in 2021!
Sponsors: Jon M. Huntsman School of Business at Utah State University, Utah Money Moms, Utah Financial Empowerment Coalition, my529, & Utah Education Network (UEN)
Speaker
Amanda H. Christensen is an Accredited Financial Counselor and USU Extension Associate Professor specializing in personal finance outreach education. Amanda is editor of the Utah Money Moms blog and social media platforms and co-author of the PowerPay Money Mastery Online Course. She regularly contributes finance content to KSL's Studio 5 television show and Utah Public Radio. In her 11 years with USU Extension she has authored numerous national award-winning materials and resources for teaching personal finance and was the recipient of the 2020 USU Extension Innovator Award.