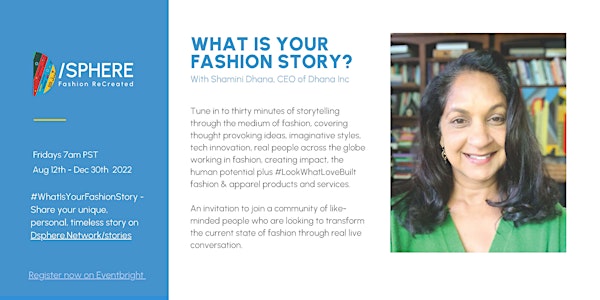 What Is Your Fashion Story?
Join us on Fridays 7-7:30 PDT
About this event
Tune in to thirty minutes of storytelling through the medium of fashion, covering thought provoking ideas, imaginative styles, tech innovation, real people across the globe working in fashion, creating impact, the human potential plus #LookWhatLoveBuilt fashion & apparel products and services.
Say no more …… we all know fashion is a common denominator and that we all wear clothes. Realizing we create memories in our clothes, fashion has an innate ability to connect us to people and planet and what better way to unite humanity than to story tell and humanize fashion.
It is a new way of spotlighting the work, contribution and celebration of fashion workers across the globe.
An invitation to join a community of like-minded people who are looking to transform the current state of fashion through real live conversation.
PS – send us your very own, unique and valuable story #WhatIsYourFashionStory