Description
Do You Have the Soul of A Dreamer?
'

What do you REALLY want for your yourself, your business, your family and children

….'
Then you don't want to miss this seminar...
Move toward your full potential – Understanding the Knowing-Doing Gap
There is an enormous difference between what we know and what we do. Most of us are confronted with the same challenge every day. We are doing things we don't want to do, getting results we don't want to get and for some strange reason we continue to do them anyway.
Why do we do this? The cause of this repeated pattern is called paradigms. Paradigms control our behavior, and our behavior produces our results. We know a lot of things and we take in a lot of information.
However; information is not necessarily transformational. In this short seminar Tom and Kathy will introduce you to what paradigms are, how they are created and how to change them to get the results you desire. This seminar is for anyone who is asking the following questions:
Do I want something more out of life, but not sure how to get it?

I have tried to make changes in the past without success – why is this?

Are my daily habits contributing to the life I truly want to live?

How do I achieve the results I want in my life?
Learn to soar above the gap and move into positive action!
Every choice I make, every action I take, every thought I think contributes to my life!
Can you think of a dream you had 5-10 or 20 years ago?

What did you want to achieve that you haven't?

For more people there's a laundry list of things the "never got around to".

What one great thing did you "never get around to"?
Take a moment and think about that, and then take a minute to think about how you would realize that dream today!
Be our guest to Thinking Into Results Seminar. – The Knowing Doing Gap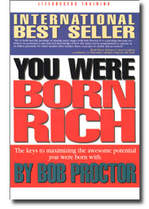 All guest will receive Bob Proctors best selling book- You Were Born Rich