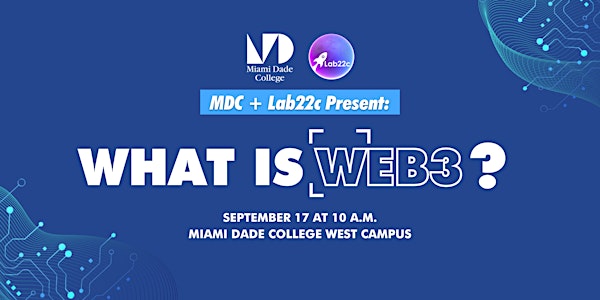 What is Web3?
Jump into the world of Web3 at MDC West Campus!
When and where
Location
Miami Dade College - West Campus 3800 Northwest 115th Avenue Doral, FL 33178
About this event
If you are still in a web2 world looking to jump into web3, this event is for you! Join specially curated breakouts and your chance to learn from leading experts in our community. This event is open to high school and college students, parents, and community members. To learn more, email Lab22cmiami@gmail.com.
Special appreciation to our event sponsors: Argos Applied Intelligence, Lab22c and Borderless Capital
Thank you to our Host Committee for their support in making this event a success!
Gianni D'Alerta | Michelle Abbs | Nabeel Ishoof | Jefferson Noel | JC Del Valle | Antonio Delgado | Pedro Santos Acosta
Full Schedule
9:30-10:00 a.m. – Check-In (Third Floor Garage Foyer - Building 1)
10:00-10:15 a.m. – Welcome and Opening Remarks (Third Floor - Building 1)
10:15-11:00 a.m. – Keynote Speaker - Nabeel Ishoof, 14 year old Web3 native (Third Floor)
11:10-11:55 a.m. – Breakout Sessions (Building 2)
Parent Session: Cybersecurity in the age of Web3 - led by Teaching Digital Natives
Student Option 1 - Basics on how to open a Crypto Wallet? Ralph Quintero, CryptoLeague
Student Option 2 - Star Atlas Demo - led by Pablo Quiroga, Co-Founder of Star Atlas
12:00-12:50 p.m. – Lunch (Monumental Stairs - Building 2)
1:00-1:45 p.m. – Breakout Sessions (Building 2)
Parent Session: Raising the future generation in Tech and Web3 world - Eric Galen, Partner, GreenspoonMarder, LLP
Students Option 1: How to mint an NFT? Gianni D'Alerta Ethereum/opensea/Manifold/scafoldeth
Student Option 2: Play to earn Crypto Games led by Sayid Muhammad, Founder GPlay
1:55-2:30 p.m. – Closing Keynote/Panel - Jefferson Noel, Professor and Entrepreneur and Michelle Abbs (3rd Floor - Building 1)