With so many unknowns in Malaysia, LittleLives invites early childhood professionals to share their thoughts on the future of preschools.
About this event
Honestly, what is the direction of childcare centres in Malaysia?
Are we reopening soon?
What are the SOPs for reopening?
Is there any support for centres that are currently closed or require help?
What type of resources is available for the community?
LittleLives hear all of the problems and questions above.
That's why our second webinar of the year is titled, "What is The Direction of Childcare Centres in Malaysia?" as we invite professionals from the early childhood industry in Malaysia to talk about the future of childcare centres.
With absolutely no idea on to when childcare centres are able to open again in Malaysia with the rising cases every day, our community is worried for their jobs, their children's education and future.
Our panellists consist of a representative from each industry in the early childhood sector:
Government overview
Digital company overview
School overview
Association overview
Each panellist will share their professional viewpoints on a unique question dedicated to them and their industry.
How important is the early childhood industry in Malaysia?
How relevant is technology in the early childhood industry?
How sustainable is the early childhood industry in Malaysia?
How can associations help our early childhood industry?
Who should attend this webinar?
Anyone related to the early childhood community; from school owners, teachers to parents and caretakers.
While we cannot guarantee answers from this webinar, we're sure to provide plenty of support, ears to listen and have some sense of clarity of the ongoing situation in Malaysia.
We hope at the end of the webinar, our participants get to:
View the different perspectives on the direction of childcare centres
Plan their direction for the near future for childcare centres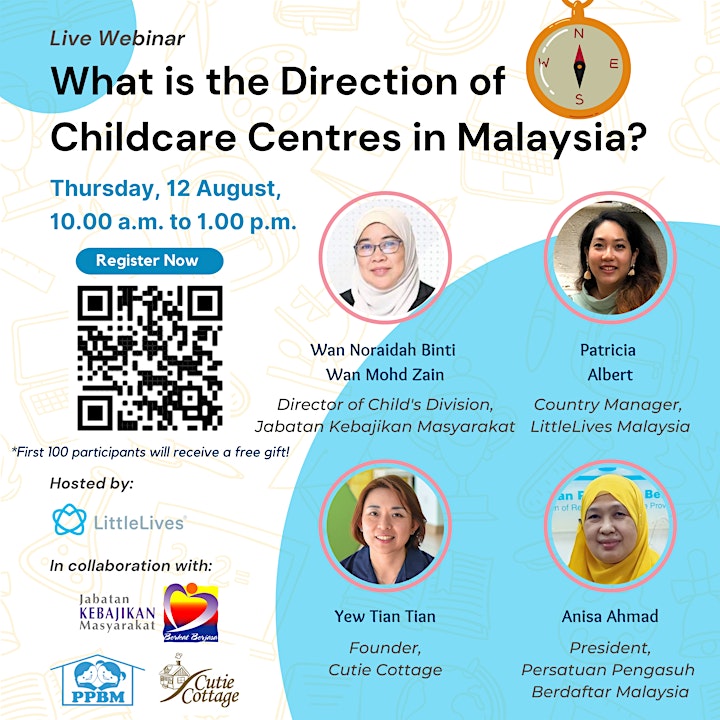 Our esteemed panel consists of:
1. Wan Noraidah Binti Wan Mohd Zain (Director of Child's Division, Jabatan Kebajikan Masyarakat)
Representing the Jabatan Kebajikan Masyarakat, Kelantan-born Pn Wan is the Director of Child's Division and has over 26 years of experience in the early childhood industry in Malaysia. With a Diploma in Counselling Physcoholgy, Pn Wan is also pioneering programs and activities aiming to help the early childhood community that includes the welfare of staff and students.
2. Patricia Albert (Country Manager, LittleLives Malaysia)
As the Country Manager of LittleLives Malaysia, Sarawakian-born Patricia Albert is responsible for both the business development and operations across the various states in Malaysia. To ensure that the company's goals and missions are achieved, Patricia spearheads localised launches, product developments and management of local services from production to marketing on distribution networks. Her experiences as a Customer Support Executive (Angel) prior to her promotion to Country Manager in 2019 provided her on-the-ground relatability with schools and gave her an edge to connect with schools effectively. Highlights of Patricia's LittleLives journey include presenting in front of the Ministry of Women, Family and Community Development and Ministry of Education as well as being part of the organising committee of the first International Preschool Conference held in Cyberjaya Malaysia back in 2017. Patricia believes that by digitalising daily operations, teachers can focus on providing quality education to their students, which is why she and her team are focused on delivering high-quality support and efforts to showcase best-in-school technology solutions in Malaysia.
3. Yew Tian Tian (Founder, Cutie Cottage)
A registered pharmacist in the United Kingdom and Malaysia, Ms Yew is a proud member of the Royal Pharmaceutical Society of Great Britain, Pharmacy Board Malaysia and Malaysia Pharmaceutical Society respectively. Spearheading three professional teams supporting the operations of Cutie Cottage, she sees the importance of hiring qualified and certified child care educators at the centres. Ms Yew is also a life member of the Association of Registered Child Care Providers Malaysia (ARCPM) and Persatuan Tadika Malaysia, as well as a member of the Early Childhood Care and Education (ECCE) Council. On top of holding a Bachelor degree in Pharmacy from the University of Nottingham in England, Ms Yew also holds a Master degree in Business Administration from the University of Southern Queensland in Australia. She believes that a professional child care centre should be transparent, allowing parents to breastfeed or visit the centre at any time without interrupting the children activities at the centres. Ms Yew is also a certified child care professional with certificates in Kursus Asas Asuhan Kanak-Kanak, Montessori, Jolly Phonic and paediatrics First Aid + CPR.
4. Anisa Ahmad (President, Persatuan Pengasuh Berdaftar Malaysia)
Aside from being the President and trainer for the Persatuan Pengasuh Berdaftar Malaysia, Madam Anisa also acts as an advisor for the Industry in Early Childhood for Master students in University Putra Malaysia. She's an in-house trainer & advisor for Owl & Tree Child Care Centre and has over 16 years of experience in Early Childhood Care & Education. Madam Anisa is a validation expert for the Taska Entrepreneurship Module Wise Start at UPSI and has a role in the Ministry of Women, Family & Community Development as an Assistant Child Protector. She holds multiple degrees and diplomas, such as a Degree in Education (Early Childhood Education) from University Selangor, Early Childhood Education Level 1 from CACHE, UK and the Malaysian Skill Certificate Level 3 and 4 in Early Childhood Care and Education. She's currently pursuing her Master in Health Science (Healthy Psychology) in the University Kebangsaan Malaysia.
A zoom link will be provided to you 3 days before the webinar date.
Feel free to share this webinar with friends and family members. Everyone needs some form of comfort these days.
Reach out to storytellers@littlelives.com if you have any enquiries and visit www.littlelives.com for more information.