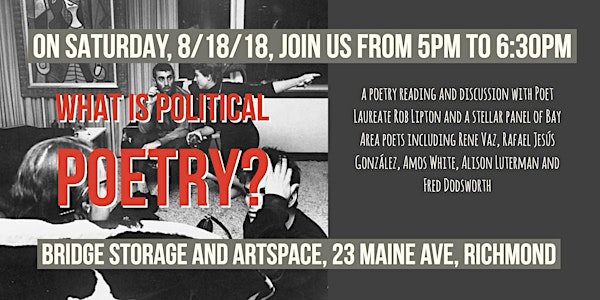 "What is Political Poetry?" (reading and discussion)
When and where
Location
Bridge Storage and ArtSpace 23 Maine Avenue Richmond, CA 94804
Description
You are invited to a poetry event on Saturday, August 18th entitled "What is Political Poetry?"
This reading and discussion will be led by Richmond Poet Laureate Rob Lipton and a stellar panel of Bay Area poets including Rene Vaz, Rafael Jesús González, Amos White, Alison Luterman and Fred Dodsworth.
Rob will moderate with these distinguished poets on the nature of poetry as a creative act that can or cannot be separated from the world we live in.
Questions may arise on whether there a genre of poetry that is political and how this might this differ from poetry that is ostensibly not considered political. Indeed, is the very act of creation a political act in its own right?
Each poet will read poetry of their own as well as of others that they consider illustrative of their approach to this question.
Following this, we will have a round table discussion which will include audience participation.
POET BIOS
Alison Luterman's three books of poetry are The Largest Possible Life; See How We Almost Fly; and Desire Zoo. Her poems and stories have appeared in The Sun, Rattle, Salon, Prairie Schooner, Nimrod, The Atlanta Review, Tattoo Highway, and elsewhere. Her poetry is often used by therapists, coaches, and meditation teachers.
She has also written an e-book of personal essays, Feral City, and more than half a dozen plays, including Oasis, Saying Kaddish With My Sister, Glitter and Spew, Touched, and two musicals, The Chain and Nasty Women.
Alison performs with the Oakland-based improvisation troupe Wing It! and has given writing workshops all over the country, including at Omega and Esalen Institutes. She teaches memoir at The Writing Salon in Berkeley, and is available for private coaching in writing or creativity, both in-person or on-line. She also loves to teach easy accessible theater games and writing prompts to groups of all kinds. For more information, please visit her website at www.alisonluterman.net.
Rafael Jesús González, Prof. Emeritus of literature and creative writing, was born and raised biculturally/bilingually in El Paso, Texas/Cd. Juárez, Chihuahua, and taught at University of Oregon, Western State Collage of Colorado, Central Washington State University, University of Texas El Paso (Visiting Professor of Philosophy), and Laney College, Oakland, California where he founded the Dept. of Mexican & Latin-American Studies, Also visual artist, he has exhibited in the Oakland Museum of California, the Mexican Museum of San Francisco and others. His collection of poems La musa lunática/The Lunatic Muse was published in 2009 with a second printing in 2010. Nominated thrice for a Pushcart price, he was honored by the National Council of Teachers of English and Annenberg CPB for his writing in 2003. He received the 2012 Dragonfly Press Award for Outstanding Literary Achievement and was honored by the City of Berkeley with a Lifetime Achievement Award at the 13 Annual Berkeley Poetry Festival 2015. He was named the first Poet Laureate of Berkeley in 2017. Visit
Fred Dodsworth is co-host of the 8th 9th & 10th Annual SF Beat Poetry Festival, board member of the 20th Annual Watershed Ecological Poetry Festival, co-organizer of the Northern California Book Awards, collective member of the Beast Crawl Collective for 5 years (now retired), founding board member of Bay Area Generations—A Reading Series For The Ages (now retired), for the last six years Fred Dodsworth has worked with Sharon Coleman producing Milvia Street, the venerable Peralta Colleges literary magazine. He is also publications advisor to Joyce Jenkins of Poetry Flash. Fred has been a featured reader at the 2014 Annual Berkeley Poetry Festival, East Bay Alternative Book and Zine Fest, and many other reading series events. His stories and poems have been published in Red Light Lit, Rag Mag, RISE!, and others. He's currently finishing a book of poems, a book of short stories, and his first novel.
Amos White is an awarded American haiku poet and author, producer and activist, recognized for his vivid literary imagery and breathless poetic interpretations. Amos is published in several national and international reviews and anthologies. He is Founder and Host of the Heart of the Muse creative's salon, Executive Producer and Host of Beyond Words: Jazz+Poetry show; Producer of the Oakland Haiku and Poetry Festival; President of Bay Area Generations literary reading series.
René Vaz is a Bay Area writer. He curates the reading series Voz Sin Tinta and Nomadic Press Uptown Fridays. He is a lecturer at San Francisco State University for the Latino Studies department and is committed to providing space for people of color/marginalized voices. He holds an M.A. and M.G.A. in English and Creative Writing from San Francisco State University. René Vaz is also an educator and activist, championing for the advancement of black, indigenous, and immigrant communities. He is an adjunct professor in the Latina/Latino studies department at San Francisco State University. He is unapologetic in his critiques of white supremacy in the Bay Area, often perpetrated by those who call themselves "ally" and "liberal." His book "The Planet of the Dead" is out with Nomadic Press (2017)
Rob Lipton has been a long time east bay resident and a Richmond resident for 6 years. He is both a poet and a spatial epidemiologist studying violence in the most dangerous cities in the USA. He has received grants from Berkeley Community Arts and Alameda Community Arts Program. He is a poet laureate of Richmond, and also plays the harmonica! (2017-2019) robertlipton.blogspot.com His book "A complex bravery" is published by Marick Press.