Have you heard the term Mental Health First Aid, but not sure what it is, or if it's a skill you might want to learn?
About this event
Join Kev Beresford, a First Aid at Work instructor at Whitecat Wellbeing, to find out:
What mental health first aid is and what it is not
Why mental health first aid is a useful tool for managers
The benefits of having mental health first aiders within the organisation
Why proper training is essential
How mental health first aiders get trained
Kev Beresford is a former RAF Flight Engineer and Human Factors Specialist. Kev applies and teaches Mental Health Awareness, Mental Health First Aid, Personal and Workplace Wellbeing within the MoD and to private and public organisations. He is a member of the RAF Mental Health Network Governance Board.
Join us on Wednesday 1st September where we will discuss the importance of mental health first aid. We invite you to send your questions about mental health first aid at work in advance, as well as during the event.
Please note: this event is NOT a mental health first aid at work training course.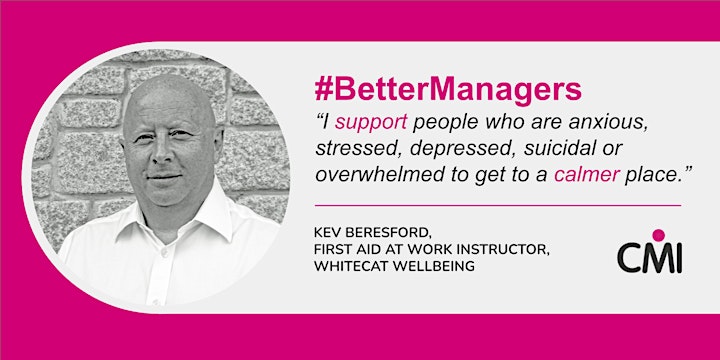 Kev Beresford
First Aid at Work Instructor, Whitecat Wellbeing
Kev Beresford is a passionate advocate of mental health and mental fitness, having witnessed first-hand the impact of mind set on performance throughout his RAF career.
An instructor and facilitator for over 20 years, Kev offers a broad range of coaching, leadership, followership and personal development training and services based on his many qualifications as a TRiM practitioner, Personal Strengths Facilitator (SDI), NLP practitioner, Mental Health First Aid instructor (NUCO and MHFA England) Human Factors Facilitator and Supervisor. For the RAF he developed and ran a practical leadership course for five years. He has designed and led teambuilding events for the Met Office, Royal Artillery, various Civil Service groups, WRU coaches and players, England Rugby 7's, and Bath Rugby.
As a Crisis Volunteer for "SHOUT" (a national crisis text line) Kev supports people who are anxious, stressed, depressed, suicidal or overwhelmed and who need immediate support to get to a calmer place. A member of the RAF Mental Health Network Governance Board, Kev is developing a Thriving at Work course for RAF Brize Norton. Empathy, trust and active listening are central to Kev's work.
He lives in Wiltshire with his wife.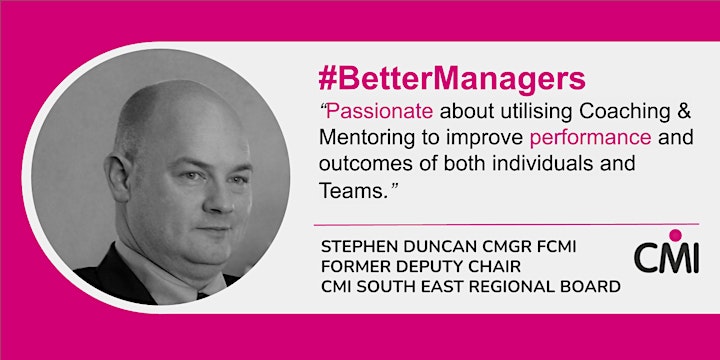 Stephen Duncan CMgr FCMI
Former Deputy Chair, CMI South East Regional Board
Stephen is an experienced military aviator whose current role is to project manage and deliver training to aircrew instructors. A qualified Flying Training Manager and Training Supervisor he both develops and assesses instructors in various aircrew specialisations. Allied to this Stephen delivers, and assesses on, a CMI accredited Level 5 Management Coaching and Mentoring course to personnel from across the 'whole-force' of the military. A Chief of the Air Staff's Fellow he holds an MA in Airpower and is currently completing an MBA in Leadership and Innovation.
Alongside his primary role he has been involved in the delivery of major change programs, and is a member of the APM and an associate member of the EAAP ( European Association for Aviation Psychology). Having held positions as a Mentor, Trustee, Director and Chair for several charities Stephen is passionate about utilising Coaching and Mentoring to improve the performance and outcomes for both individuals and Teams.
A member of the CMI Thames Valley Regional Board since 2016, Stephen was selected as Deputy chair in 2017. Following the restructure of the CMI volunteer network in 2020, Stephen became the Interim Board Lead for the newly formed CMI South East Regional Board and was Deputy Chair until July 2021.
In the meantime...
If you're a member of CMI, or subscribe to our content, you can find thousands of exclusive, practical development resources in ManagementDirect. Log in here and search for a topic to get started!
Not yet subscribed?
From free newsletters packed with the latest trends, insights and tips for managers and leaders, to the full suite of invaluable tools and benefits that come with being a CMI member, we've got something for everyone. Visit our website to find out more.