About this Event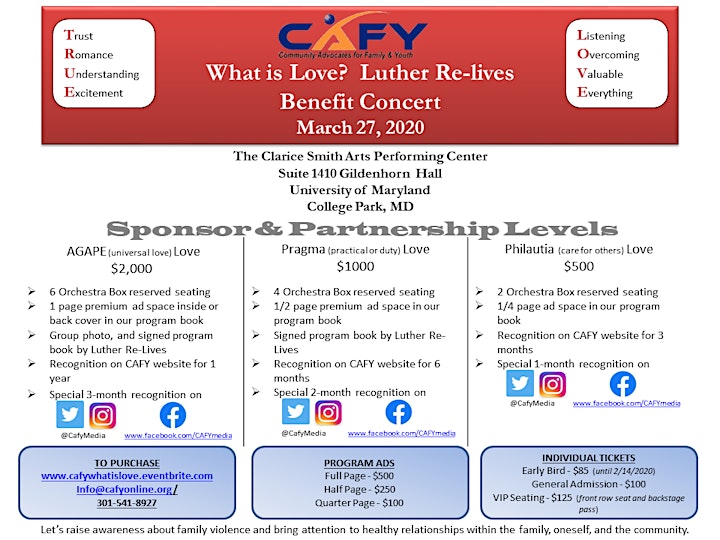 GET MY TICKET NOW! https://theclarice.umd.edu/events/2020/what-is-love
Become a Love Sponsor and help us eliminate domestic violence. Every $85 ticket purchased will donate $45 towards providing children and their surviving parent to safety immediately.
1 in 6 of our teens will experience intimate partner violence; 1 in 4 women will experience domestic violence, 4.5 million of our 15 million children witness violence. As teen dating violence month comes to an end, family and partner violence continues all year. Last year CAFY placed 43 survivors and their 63 children fleeing from a domestic incident. Raising awareness, showing what healthy relationships look like, hearing the testimony of survivors who made it out and placing those who want to be survivors out of harm's way is a every day need and it takes funds.
Join us for our "concert for a cause", showing what love is, hearing from a survivor on how they made it out and turned their journey into music. The concert is $85 but $45 of your ticket costs goes toward placing a survivor and children out of harm's way. We placed 43 last year but there were 653 who were in need. Become an advocate and help eliminate the family violence.
Go to theclarice.umd.edu/events/2020/what-is-love to take a stand against domestic violence, "If Only for One Night".
Raising $10,000 will allow us to place at least 74 more survivors and their children in safe placements for at least 3 days. Safe Haven Funds will move more children out of the way of violence.
"If Only for One Night" take a stand and help to eliminate domestic violence.