What is it to be GREEN @ Your Library

Wednesday, July 31, 2013 at 10:00 AM

-

Monday, August 5, 2013 at 12:00 PM (PST)
Event Details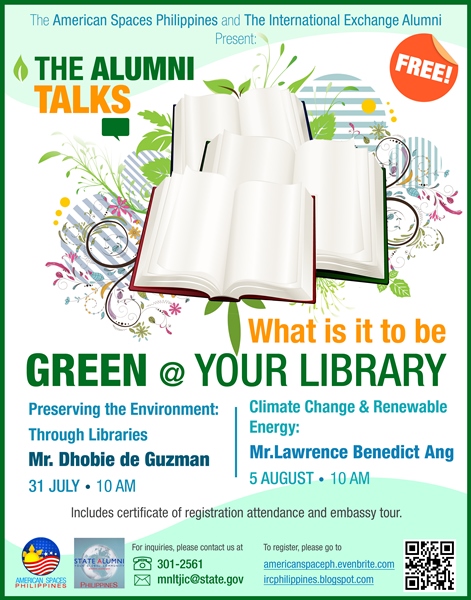 The Public Affairs Section of the US Embassy Manila is pleased to present our 'Alumni Talks Series'. This series offered at the Thomas Jefferson Information Center provides an opportunity to hear from expert resource speakers who are also Alumni of United States Government sponsored academic and professional exchange programs. Our alumni speakers will address a variety of themes, including:

Travel and Tourism
Preserving Cultural Heritage
Peace Corps and Volunteerism
Corporate Social Responsibility
Access to Education
Science, Technology and Health
                                             WHAT IS IT TO BE GREEN @ YOUR LIBRARY
                                     Preservation of the Environment through Libraries 
                                                                 Dhobie De Guzman
                                                            JULY 31, 2013, 10:00 AM
Mr. De Guzman is an alumnus of the International Visitor Leadership Program (IVLP) in 2010.  He is currently the News Head  and Anchor of ABS-CBN TV Patrol Northern Luzon.  As a journalist, he pursues stories which will raise consciousness on environmental preservation.  He is an active promoter of civic participation and community service activities in Baguio.  His strong passion for education and the environment has led him to spearhead several community projects like the construction of "green-library" out of plastic bottles. 
At present, he is working on the accreditation of a group he founded, Berdeng Karunungan. This group in collaboration with civic minded residents of Baguio aims to build more "Green Libraries" for the underprivileged barrios in Baguio.
                                               Climate Change and Renewable Energy
                                                               Lawrence Benedict Ang 
                                                            AUGUST 5, 2013, 10:00 AM
Mr. Ang is an alumnus of the International Visitor Leadership Program (IVLP) in 2012.  He was a member of the Philippine delegation to the climate talks in Copenhagen, Cancun and Durban, and served in the Office of the Presidential Adviser on Climate Change.
 He is currently a consultant with the Energy Development Corporation, among the largest developers of renewable energy in the Philippines and the world, and is also the Public-Private Partnership Specialist for the USAID supported project with the Philippine Bureau of Fisheries and Aquatic Resources called ECOFISH.
Venue: Thomas Jefferson Information Center, US Embassy
Registration Period: June 23-26, 2013
ONLINE REGISTRATION PROCEDURE
STEP 1:
Fill-up the required fields in the EventBrite registration site.
STEP 2:
Once event is registered, the system automatically send the registration coupon on your e-mail. Please check your e-mail.
STEP 4:
Once e-mail is received, download your registration coupon and print the coupon to be presented upon entering US Embassy. Please be reminided that we will impose
'No registration coupon, No entrance'policy.
REMINDER:
1. Walk-in registration is NOT allowed. The attendee must register online in order to participate the event. We also do not accept registration after the deadline.
2. Electronic Gadgets such as laptop, tablets/ipad, external HD/USB, cellphone, and cameras are not allowed inside the US Embassy. The Embassy security will ask you to leave your electronic gadgets at the Embassy Gate counter.
3. The event is for FREE! 
4. Please bring any valid Identification Card (ID) for registration verification at the Embassy gate.
For inquires, please contact us at (T) 301-2561; (E) mnltjic@state.gov 
REGISTER NOW!
When & Where

Thomas Jefferson Information Center, US Embassy Manila
1201 Roxas Boulevard
Manila, NCR 1000
Philippines

Wednesday, July 31, 2013 at 10:00 AM

-

Monday, August 5, 2013 at 12:00 PM (PST)
Add to my calendar