"What is it about Parma? A Look at Italy's Opera-Crazed Town"

Tuesday, December 6, 2016 from 6:00 PM to 8:00 PM (CST)
Event Details
"What is it about Parma? A Look at Italy's Opera-Crazed Town"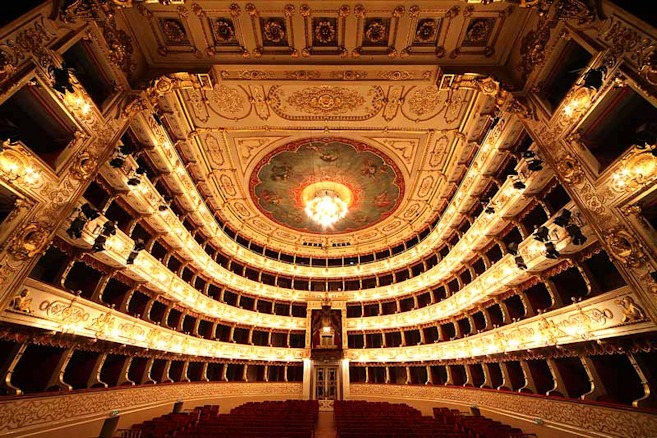 Tuesday, December 6th at 6pm
Italian Cultural Institute
500 N Michigan Avenue, Suite 1450
What is it about Parma? An opera town like no other, Parma and its magnificent Teatro Regio enjoy fame -- some would say infamy -- as the "toughest", most passionate and best-informed opera audience in the world.  Film-maker August Ventura will share some extraordinary findings that have surfaced during research for his own film, as well as some remarkable filmed excerpts -- some of which have not been seen in over half a century. These clips will present abundant performance and rehearsal footage, but will also provide a fascinating glimpse into the uniquely working-class milieu of Parma's opera-mad populace.  Mr. Ventura will provide an intriguing look into their source and their re-discovery along with some of his own interview footage of the people who were there. 
A self-styled "Verdi dévotée", August Ventura has explored the unique opera culture of Parma, Italy and its cult-like reverence for il Maestro's 27 operas in three feature articles for Opera News.  These have formed the basis of "27: The Verdi Documentary Film Project", an ongoing, not-for-profit initiative created to promote and advance Verdi's "enduring legacy of music, charity, patriotism, honour, grace, and reason" via Verdi-themed articles, lectures and events, and using in the medium of documentary film.  The full-length documentary film, "27", scheduled for completion in 2017, has been invited for presentation as a work-in-progress at such venues as The Metropolitan Opera Club, The Knickerbocker Club, The Century Club, The National Arts Club, Sarasota Opera, Teatro Regio's Festival Verdi, Vassar College, and at NYU's Casa Italiana, where it was the Inaugural Event at the 5-day Bicentennial Symposium organized by the American Institute of Verdi Studies.  A recent event he conceived and organized for Parma's incomparable Club dei 27, was the subject of an article in The New Yorker, "Honoring Verdi on Seventy-Second Street".  Visit: 27adocumentary.com 
Free and open to the public.  
When & Where

Italian Cultural Institute
500 N Michigan Ave
Suite 1450
Chicago, IL


Tuesday, December 6, 2016 from 6:00 PM to 8:00 PM (CST)
Add to my calendar
Organizer
Italian Cultural Institute of Chicago
500 N Michigan Ave., Suite 1450
Chicago, IL 60611
Currently active in all the major cities of the five continents, the ninety Italian Cultural Institutes serve as an ideal meeting place for intellectuals, artists, and cultural operatives, as well as for ordinary citizens, both Italian and foreign, who wish to establish or maintain a relationship with our country. By acting not only as a showcase and source of current information on Italy, but also as a driving force behind initiatives and projects of cultural cooperation, the Italian Cultural Institute has become a focal point for both the Italian communities abroad and the growing demand for Italian culture throughout the world.

By extending the role of Embassies and Consulates, the Italian Cultural Institutes offer the most effective tools for promoting a worldwide image of Italy as a center of production, preservation, and dissemination of culture from the Classical Age until today. Along with organizing cultural events in a vast array of areas, including art, music, cinema, theatre, dance, fashion, design, and photography, the Italian Cultural Institutes:


Offer the opportunity to learn Italian language and culture through the organization of courses, the management of libraries and the preparation of educational and editorial materials;
Provide the networks and the premises to facilitate the integration of Italian operators in the process of cultural exchange and production at an international level;
Provide information and logistic support to public and private cultural operators, both Italian and foreign;
Continuously support initiatives aimed at promoting an intercultural dialogue based on the principles of democracy and international solidarity.