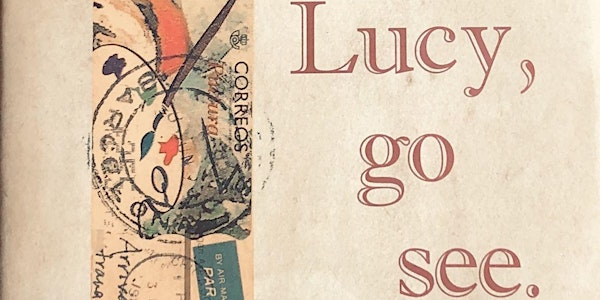 What is Erotic? Lucy Pilgrim's Map
When and where
Location
Philosophical Research Society 3910 Los Feliz Blvd. Los Angeles, CA 90027
Description
Join us for this special evening in the bookstore with author Marianne Maili, Ph.D.
"She knew, too, that what most people called love was not, and that love was not easy. And she knew that desire was something altogether different too. She had a feeling that sex was much more important than anyone seemed to realize, much more sacred than anyone would like to believe and even more powerful than anyone had already imagined. She sensed it was at the base of creation, not to be messed with, without messing up the whole system. And she knew when her grandfather kneaded her breast as he hugged her that something in the system was obviously very messed up." (excerpt from the prologue of Lucy, go see. by Marianne Maili)
The novel Lucy, go see. is based on a true story of a young woman seeking erotic wisdom in the aftermath of being inappropriately touched by her beloved grandfather at the tender age of 14. Author Marianne Maili will read excerpts, interlace personal experience, and reference Anne Carson, Jacques Lacan, Judith Butler, Bell Hooks, Jacques Derrida, and Hélène Cixous, among others, as she presents Lucy Pilgrim's search for understanding of what Lucy considers the big misunderstanding between love and desire. Lucy splits sex from love for a time to better understand what she sees and hears about sexuality in the world around her. In her twenties, as she is living the life she dreamed about since she was a child, she is seemingly randomly struck by mysterious and powerful orgasms during her daily life, just walking down the street, for example. These experiences increase her curiosity about sexuality as a power greater than her, leading her beyond the physical, into sacred territory. Her search also leads her to claim her sexual agency as she understands the arousal of sexual desire as hers, as life force emanating through and from her.
About the novel:
Called an "intriguing tale of sexual revelation" by Kirkus Reviews, Lucy, go see. is a winner of the 2019 Eric Hoffer daVinci Eye, and finalist of both American Book Fest's 2018 Best Books awards and the 2019 Indie Book awards.
About the speaker:
Marianne Maili currently resides in Los Angeles and is a native of Key West, Iowa, a French citizen, and a former longtime Spanish resident of Catalonia. Maili pioneered the acceptance of creative dissertation work in continental Europe when she earned her Ph.D. in The Construction and Representation of Cultural Identities at the University of Barcelona. She speaks English, French, and Spanish, and translates from Catalan. Her Certificat de Langue Françaiseis is from the University of Paris-Sorbonne. A Spanish Ministry International Mobility Scholar for both her M.A. and her Ph.D., and a Visiting Scholar at the International Writing Program at the University of Iowa, she was also an Erasmus Distinguished Foreign Visitor at the Josef Skvorecky Literary Academy in Prague, Czech Republic. For twenty-five years she traveled extensively throughout the world while living and working as a model and actress in Italy, Japan, France, Spain, Hong Kong, Austria, and Switzerland. She has taught at universities and writing schools in Europe and the United States. Her second novel, Lucy, come home. is forthcoming.