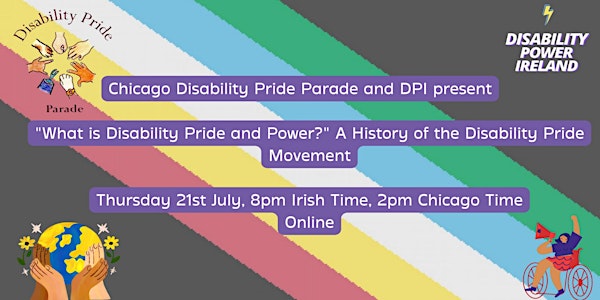 What Is Disability Pride & Power? With Chicago Disability Pride Parade
Join us for a panel discussion on the history of the Disability Pride Movement with our friends from Chicago Disability Pride Parade
About this event
Image shows the new disability pride flag with five diagonal coloured stripes for different impairments, against a charcoal background. In the top-left corner, the Chicago Disability Pride Parade logo, and in the top-right corner, the DPI logo. In the bottom right corner, a girl on a wheelchair in vibrant red and blue with raised fist using a speakerphone, and in the bottom left corner, an image of hands of different skin tones holding up the earth with yellow flowers and stars.
Join us for an evening of international solidarity as we celebrate and discuss the history of the Disability Pride Month and movement with our friends from Chicago Disability Pride Parade, two days before their own parade in solidarity.
Speakers for the panel discussion are: Justin Cooper and Bill Thomasson, Ph.D., from Chicago Disability Pride Parade, and DPI Chair/Founder Maryam Madani
This event will take place at 8pm Irish Time, and 2pm Chicago Time, on Thursday 21st July.
Chicago Disability Pride Parade Website: https://www.disabilityprideparade.org
Image below shows Justin Cooper on his chair, wearing sunglasses and a black and blue graphic t-shirt, holding a camera.