Join us for a conference exposing the critical race theorist, their agenda, and best- How you can fight it.
About this event
What is Critical Race Theory and How to Fight it
When: Saturday, September 25, 2021
Where: Radisson Hotel West 2303 N Mayfair Rd, Wauwatosa, WI 53223
Time: 9am-12pm (General Session), 12pm-2pm (Campaign, Activist and Candidate Training Session)
FREE EVENT w/ Lunch Provided
RSVP: https://www.eventbrite.com/e/what-is-critical-race-theory-and-how-to-fight-it-tickets-161030966957
Program with Speakers:
Program/Speakers- (9am-12pm)
Alyssa Pollow and Scarlet Johnson- PowerPoint presentation on Tenets of CRT, How to file an open records request, CRT "buzz words", Curriculum alternatives to CR
Kevin Nicholson- Volunteer President CEO of No Better Friend Corp
Cong. Glenn Grothman- Education Committee
Rep. Scott Allen- Black Lives Matter Kids Curriculum
Brett Healy- Who is pushing CRT? Local News Coverage on Education Indoctrination
Ryan Owens- Legalities of CRT, Perspective from a Attorney General Candidate
Legislative Panel: Sen. Alberta Darling (Education Chair), Rick Gundrum and Rep. Chuck Wichgers
We the Parents Panel: No Left Turn, FAIR, Wisconsin Patriots, Moms for Liberty
New Leaders Campaign Training (12pm-2pm)
If you are running for office, have ever thought about running for office, helping with a campaign or understanding more about the political process, plan on attending this event to learn what candidates need to do in order to win.
Topics* to be covered during the training include:
Campaign Plan. The Candidate: Ensuring you are on the ballot and other important information.
The Administration and Committee: Who is going to be most involved
Communication: Strategy, messaging, medium, and positioning tactics
Fundraising and Budget: Where is the money going to come from and how will it be spent.
Voters: Finding information on who votes, contacting voters through direct contact and GOTV efforts, and volunteers.
Registering New Voters
If you have any questions about this training or would like additional information please contact Matt Batzel at MattB@AmericanMajority.org.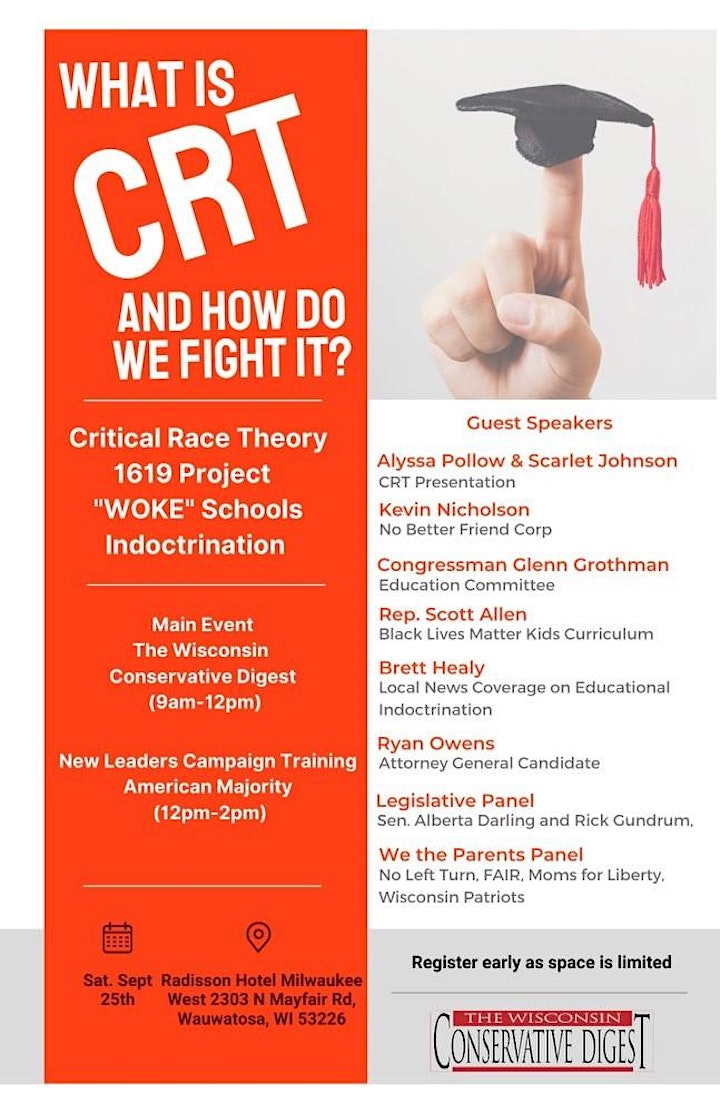 Organizer of What is Critical Race Theory and How To Fight It