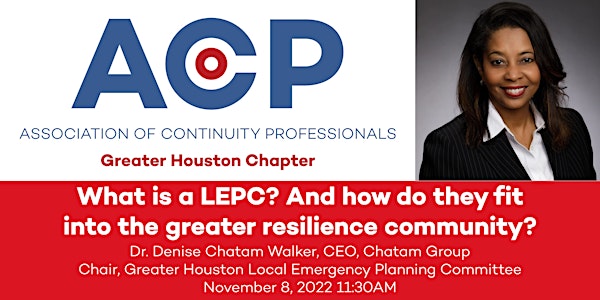 What is a LEPC? And how do they fit into the greater resilience community?
Dr. Denise Chatham Walker discusses Local Emergency Planning Committees and their role in preparedness
About this event
Member Spotlight: Derek Ortt - Business Continuity Manager & Senior Tropical Meteorologist, StormGeo
Synposis: This month we will be joined by Dr. Denise Chatam Walker who is from Houston and has a deep connection with emergency response in the Houston area. Houston has a number of Local Emergency Planning Committees but many within ACP may not be aware of what they are and their purpose. We will discuss the purpose of the LEPC, how ACP members can find, join, and interact with their local LEPC. Along the way, Dr. Walker will help share her insight into preparedness and share her experience on the topic. We hope you will join us and help make everyone aware of another group helping to make sure the Houston area is prepared for whatever incident might occur.
And for ACP Greater Houston chapter members, don't forget to block your schedule for our Holiday Party on Tuesday December 13th from 11:30AM to 1:30PM at Nundini's Chef's Table at 500 N Shepherd. Wear your ugly sweaters, ties, and reindeer ears. We will celebrate being face to face and enjoying a great meal together. And as always we will have fabulous raffle prizes including a Spring DRJ conference pass in Orlando worth more than $1500.
About our Speaker: Dr. Denise Chatam Walker is CEO of Chatam Group, a safety and security consulting firm, and serves as the Chair of the Greater Houston Local Emergency Planning Committee (GHLEPC). GHLEPC is a government associated advisory committee mandated by EPCRA 301(c). As Chair, she is the ex-official responsible for policy and direction on EPCRA and establish rules by which the committee shall function. Such rules shall include provisions for public notification of committee activities, public meetings to discuss the emergency plan, public comments, response to such comments by the committee, and distribution of the emergency plan. Dr. Walker holds a Doctorate of Business Administration, a Master of Science in Engineering Management, Industrial Engineering, and graduate certificates in project management, mediation, and collaborative leadership in homeland security. Dr. Walker is the retired Chief Emergency Management Officer for a large community college, and the Texas Emergency Management Advisory Committee. Dr. Walker is the author of the books "Mass Notification and Crisis Communications: Planning, Preparedness, and Systems" (2011) and "Cybercrime: Secure IT or Lose IT" (2008) and national presenter on a broad range of topics.