What happened on Tuesday? A post-election analysis
Location
Humphrey Forum, Humphrey School of Public Affairs
301 19th Avenue South
Minneapolis, MN 55455
Description
What happened on Tuesday? A post-election analysis

Wednesday, November 5, 2014
12:00 - 1:15 PM
Humphrey Forum
Humphrey School of Public Affairs
The upcoming 2014 elections have the potential for a shift in power both locally and nationally. Please join us for a conversation with Ken Martin, chair of the Minnesota DFL and Minnesota Senator Michelle Benson to discuss the results and the implications moving forward. Moderated by Professor Larry Jacobs, the conversation will bring insight from party leaders, legislative experts and political science junkies for an in-depth look at state and national election results.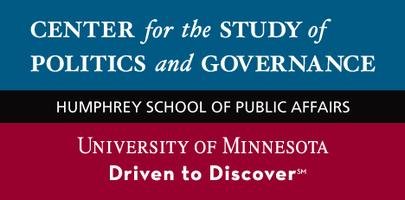 ---
CSPG events are free and open to the public.
For parking and directions please go to http://www.hhh.umn.edu/contact/parking.html.
To request disability accommodations, please call 612-625-5340 or e-mail cspg@umn.edu.
For more events sponsored by the Center for the Study of Politics and Governance, visit http://www.cspg.eventbrite.com/.
The University of Minnesota is an equal opportunity educator and employer.