Description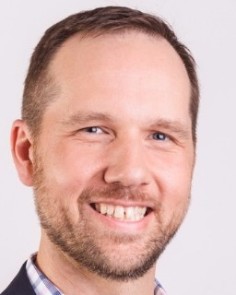 Jason is a social entrepreneur committed to building sustainable enterprises that address global social challenges. Whether delivering internet technologies to isolated communities, sustainable health care solutions in low-income countries, or access to prescription medications for uninsured individuals, Jason's wide-eyed curiosity around what's possible and pragmatic leveraging of market forces continues to bring new innovations to underserved communities near and far.
Jason Dinger currently serves as the Chief Incubation Officer for Ascension, the largest non-profit health system in the U.S. and the world's largest Catholic health system. Jason provides leadership in designing, guiding and operationalizing new solutions and transformative innovations across Ascension, with emphasis on those that require incubational and entrepreneurial direction. Jason helps commercialize appropriate products and services nationally and internationally, coordinating with leaders across Ascension to test, pilot and introduce new solutions.
Jason will discuss what he's learned from some of the largest corporate innovators and how those learnings have been put to use inside Ascension's innovation efforts. While structure and process are a crucial starting point, Jason will explore how recent research in decision making theory is framing many new changes in how companies incubate and commercialize new products and services.
Prior to serving as Ascension's Chief Incubation Officer, Jason served as the chief executive officer of MissionPoint Health Partners, was the chief strategy officer for Saint Thomas Health, and served as chief executive officer of the Dispensary of Hope.
Jason received his Bachelor's degree in Public Policy and his PhD in Leadership, Policy and Organizations from Vanderbilt University. His academic interests are broad but largely focused on behavioral economics in low-income countries and how purpose driven organizations can serve as sustaining cultures of innovation. He resides in Nashville, TN with his wife and son.