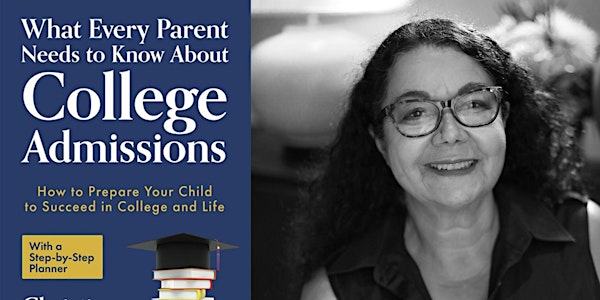 What Every Parent Needs to Know About College Admissions | Christie Barnes
A talk with the author, Christie Barnes on how to prepare your child to succeed in college and life.
When and where
Location
Oxford Exchange 420 W. Kennedy Blvd. Tampa, FL 33606
About this event
About the book:
Society's guiding "truths" about higher education are now incorrect. In What Every Parent Needs to Know About College Admissions, Christie Barnes helps parents and students alike cut through the noise and find the best school, which might not always be the most prestigious or expensive one.
College planning re-examined. All economic levels are getting vastly incorrect information for college and career planning, leading to anxiety-ridden youth and crippling student debt. Less affluent students are being led to more expensive options and high achievers feel compelled to apply for college at the most prestigious institutions. But, whether it's a state school, safety school, or public school―there are other options beside an overpriced private school. It could be, but it might not be.
A guidance counselor for parents. Learn that it's not just about the "right" college, it's about the "right fit" college. Using statistics, experts, and multi-factor analysis to clarify what should and should not be a worry in college planning, Barnes helps parents identify better, and often overlooked, options. In this guide, she dissects the top ten parental worries about how to get into college, including college applications, college admissions, college requirements, and college acceptance.
About the Author:
Christie Barnes is best known for her acclaimed Paranoid Parents Guides, countering what parents perceive as worries and dangers with facts and statistics to focus their parenting efforts. Appearing in the New York Times, on ABC, and across the nation and even crashing the NPR website, she was honored to help worried parents.
Researching her new book What Every Parent Needs to Know about College Admissions, she was shocked to find that stellar students were not getting even adequate college and career outcomes. She felt that more than research and writing about the problem was needed, so she sought professional qualifications in college and career counseling. Adding to her BA from Mount Holyoke College, graduate study at Oxford, and an MA Hons City University of London, she became a certified High School and College Career 'conversationalist' and pursued post-master's education and training.
This expertise took her to 'Washington D.C.' for the National Policy Symposium. Where she testified and advocated to senators and members of Congress about Career and Technical Education.
She has recently appeared in Forbes as an expert on college and the future of work and Reader's Digest on Covid-19 disruption of college, with Dr Anthony Fauci.
Barnes had an earlier life in film and television, apprentice directing at the Royal Shakespeare Company, translating plays for the BBC, assistant directing award-winning TV for Channel Four. She married Oscar-nominated, Olivier award-winning playwright Peter Barnes. His sudden death when their triplets were one and daughter four, left Christie a single mother determined to be the best parent she could be–which led to her career as a respected and well-known parenting expert.