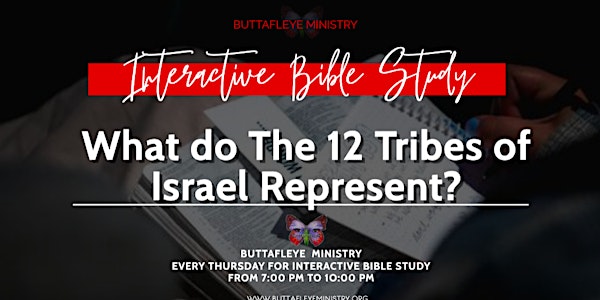 What Does the 12 Tribes of Israel Represent?
Twelve Tribes of Israel, in the Bible, the Hebrew people who, after the death of Moses, took possession of the Promised Land of Canaan.
By Buttafleye Music, Media, Ministry
Date and time
Thursday, March 23 · 5 - 8pm PDT
About this event
WHAT DO THE 12 TRIBES OF ISRAEL REPRESENTWhat do the 12 Tribes of Israel Represent?
(12'Tribes of Israel') are, according to Hebrew scriptures, the descendants of the biblical patriarch Jacob, also known as Israel, through his twelve sons through his wives, Leah and Rachel, and his concubines, Bilhah and Zilpah, who collectively form the Israelite nation.
WHAT WE WILL LEARN:
What was the purpose of each tribe? What does the Bible say about the 12 tribes? We will learn their purpose, their symbols, and monthly representation and how it applies to our daily lives. We will learn so much more. What are the importance and significance of the 12 Tribes of Israel? The 12 Tribes, their purpose, and how they apply to our life. Answer questions that many long to know. What tribe is Yeshua from? What tribe are you from? Is there a 13th tribe?
Learn the full story and the backstory of each tribe, their purpose, and their significance. Each week we will learn about 3 new tribes with interactive studies. Get a full revelation on these historical facts of the lost tribes of Israel.
The Book of Revelation (7:1–8) gives a list of the twelve tribes. However, the Tribe of Dan is omitted while Joseph is mentioned alongside Manasseh. In the vision of Heavenly Jerusalem, the tribes' names (the names of the twelve sons of Jacob) are written on the city gates (Ezekiel 48:30–35 & Revelation 21:12–13).
CERTIFICATE STUDY: HERE
You have the opportunity to earn your certification for this topic. In this certificate study, we will learn information that has been withheld from the masses. The importance of certifications starts right from the academic study of the Bible, the journey in the initial stages. You get a certificate as proof of completing your Biblical education. Furthermore, certificates help you find jobs with employers you want to work for, teach or minister in your certified field or showcase your abilities and knowledge.
Includes: 4 Week Session, Open Panel Discussion, Class Material, and Site- Member Access
Are you ready to receive your certification for this Interactive Bible study? To receive your certification for this topic during this study, please click HERE
Hebrews 6:1 Therefore let us move beyond the elementary teachings about Christ and be taken forward to maturity, not laying again the foundation of repentance from acts that lead to death, and of faith in God.
Are you ready to receive your certification for this study? Please click HERE
About the organizer
Buttafleye Music, Media, Ministry is a bible-based ministry with the center of attention on the 8 dimensions of total wellness. Our Feed The Need (Feed My Sheep) Program assists in feeding the hungry and combating homelessness through biblical rehabilitation, outreach, and fellowship. We are blessed to be able to spread the word of The Most High and reach more people through our media and music ministry, reaching several locations.
We feed the hungry with hot food, bottles of water, dessert, and hygiene bags twice a month. Our "Charity & Love Movement" goal is to permanently house the homeless individuals and families on 250 acres of land. With the help of the community, we plan to build tiny homes, a worship center, a trade and learning school, and gardening. Our focus is a self-sustaining property with inexpensive recycled materials. Learn more and donate at:  wwwButtafleyeministry.org   
SERVICES
Buttafleye Ministry coordinates and plans events for a variety of clients, ranging from small churches or businesses to large corporations. Buttafleye coordinates depending on the event and client. This includes: developing, creating collaborative content with radio, booking, contests, fairs, festivals, private and corporate events.
We specialize in digital and social media influencers on content creation, web design, web management, and web mastering. With our main focus on building ministries and church affiliations. Musically identifying local minority culture opportunities in music, media, ministry, and international markets. Contact us at: Buttafleyerministry@gmail.com