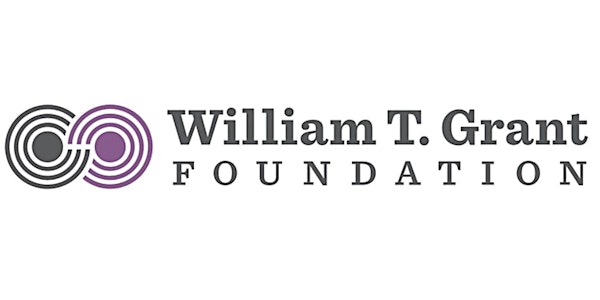 What Does It Mean to Use Research Evidence Well in Policy and Practice?
Sales Have Ended
Registrations are closed
The event has ended but the mission has not! Direct any questions to alicia@wisdom-alignment.org.
This WT Grant webinar will feature three studies of quality research use to conceptualize what it means to use research evidence well.
About this event
The William T. Grant Foundation is interested in funding research to conceptualize what it means to use research well and how to empirically study quality of research evidence use. Hosted by the William T. Grant Foundation and Forum for Youth Investment, this webinar, What Does It Mean to Use Research Evidence Well in Policy and Practice?, has been organized by members of the Quality of Research Use special interest group sponsored by the Foundation and co-led by Tom Mackie and Chris Sheldrick. The purpose of this interactive session is to build shared understandings into what it means to use research well.
Three panelists will briefly present three case studies that help conceptualize what it means to use research well and identify dimensions of research use. After the session, discussion points will be summarized and disseminated to help inform further dialog about quality evidence use.
Please join us on May 25th, from 3:00 PM to 4:20 PM EST, for this 80-minute session to build new and shared understandings of we mean by "quality research evidence use."
WEBINAR CO-CHAIRS AND SPEAKERS
Lauren Supplee, W.T. Grant Foundation (Presenter)
Chris Sheldrick, Boston University (Co-Chair and Presenter)
Tom Mackie, SUNY Downstate Health Sciences University (Co-Chair and Panelist)
Sofia Bahena, University of Texas - San Antonio (Panelist)
Bill Firestone, Rutgers University (Panelist)
Annette Boaz, London School of Hygiene and Tropical Medicine (Respondent)
BIOS
Dr. Lauren Supplee leads the Foundation's initiatives on improving the use of research evidence and its Institutional Challenge Grants program. She is a key member of the Foundation's program team where she participates in setting program directions, developing and implementing new initiatives, and reviewing grants. Previously, Lauren was the Deputy Chief Operating Officer and Senior Scholar in early childhood research at Child Trends, a nonpartisan research center focused on children and their families. Her research focuses on evidence-based policy, early childhood home visiting and other parenting programs, prevention science, and implementation research. Prior to joining Child Trends, she worked for 10 years in the Office of Planning, Research, and Evaluation at the federal Administration for Children and Families, including four years as the director of the Division of Family Strengthening. She serves on the Boards of Society for Prevention Research and DC's Family and Youth Initiative, as well as on the National Evaluation Advisory Board of Project Evident.
Dr. Chris Sheldrick is a research psychologist and an Associate Professor at the Boston University School of Public Health. He received his B.A. from Brown University and his Ph.D. in Clinical Psychology from Temple University. Dr. Sheldrick's research focusses on the mental health of children and their families with a particular emphasis on optimizing community-based screening and interventions. Collaborating with Dr. Ellen Perrin, Dr. Sheldrick helped to create the Survey of Wellbeing of Young Children (www.theSWYC.org), a freely-available comprehensive screening instrument for young children. Dr. Sheldrick's current research is directed toward improving systems of care, both through pragmatic research on real-world interventions such as parent-mediated treatments, family navigation, and integrated behavioral healthcare, and through methodological innovations to improve use of research evidence through systems science and community engagement.
Dr. Tom Mackie, PhD, MPH, is Chair of Health Policy and Management and Associate Professor at Downstate Health Sciences University. Trained as a medical sociologist and health services researcher, Dr. Mackie's research aims to bring new evidence to pressing mental healthcare policy and practice dilemmas confronted by children and their caregivers. His research is motivated by the rapid expansion of system-wide innovations that seek to address the well-documented gaps in access to quality pediatric and perinatal mental healthcare. As a mixed methods researcher, his work has examined an array of system-level innovations, including universal screening programs, healthcare provider supports (e.g., psychiatry access programs), and monitoring programs (e.g., prior authorization and drug utilization reviews). His work also leverages the decision and system sciences to improve the use of research evidence in the development, implementation, and sustainment of these innovations.
Dr. Sofia Bahena is an Assistant Professor in the Department of Educational Leadership and Policy Studies at the University of Texas at San Antonio. Her research focuses on community engagement, widening access to college, and bridging education research and policy. Dr. Bahena previously worked as a senior education associate with the nonprofit Intercultural Development Research Association and as a research and policy assistant at the Alliance for Excellent Education. She received her B.A. in business administration and sociology from Trinity University (2006), and her Ed.M. in human development and psychology (2013) and Ed.D. in cultures, communities, and education (2014) from the Harvard Graduate School of Education.
Dr. William A. Firestone is Distinguished Professor Emeritus of Educational Leadership and Policy in the Rutgers Graduate School of Education (GSE). He has directed the Center for Educational Policy Analysis and the New Jersey Mathematics-Science Partnership, both at Rutgers. Additionally, he is a fellow of the American Educational Research Association and was Vice-President of Division L (Policy and Politics) of that organization. Since 2008, he has been deeply involved in revising the GSE's educational doctorate. His work at Rutgers led to his research on how exemplary Ed.D. programs help educational leaders learn to use research evidence in their work. His other research interests focus on the implementation of state and local policy in the K-12 sector. His books include The Ambiguity of Teaching to the Test, A New Agenda for Research in Educational Leadership and Redesigning Teaching: Professionalism or Bureaucracy? His articles have appeared in the American Educational Research Journal, Educational Policy, The American Journal of Education, Assessment and Education, Educational Administration Quarterly, Educational Leadership, Educational Researcher, and Phi Delta Kappan, among other locations. His research has been funded by the WT Grant Foundation, the National Science Foundation and various offices of the US Department of Education.
Dr. Annette Boaz is a professor in the Department of Health Services Research and Policy at the London School of Hygiene and Tropical Medicine. Dr. Boaz has more than 25 years of experience supporting the use of evidence across a range of policy domains. She was part of one of the largest UK investments in the evidence use landscape, the ESRC Centre for Evidence Based Policy and Practice, undertaking an international leadership role in promoting the use of evidence. She is a Founding Editor of the International Journal Evidence & Policy and has recently published a book on evidence use: 'What Works Now.' With Kathryn Oliver, she leads Transforming Evidence, an international initiative designed to support the use of research evidence in different policy fields and contexts. Her research interests include stakeholder involvement, the role of partnerships in promoting research use, implementation science and service improvement. Dr. Boaz has worked in the UK Department of Health and also the Government Office for Science. She is a fellow of the Academy of Social Sciences and a member of the WHO European Advisory Committee on Health Research.
Registrants will receive a reminder and Zoom link prior to the event. Please direct any questions or concerns to Alicia Wilson-Ahlstrom at alicia@wisdom-alignment.org.