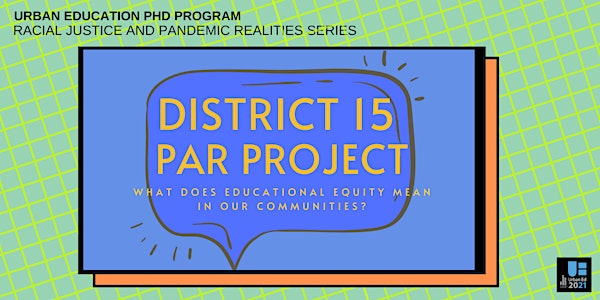 What Does Educational Equity Mean in Our Communities?
What Does Educational Equity Mean in Our Communities? with District 15 PAR Project
About this event
Please join Dr. Ariana Mangual Figueroa, Cohort 21, and the Ph.D. Program in Urban Education for the final session in this semester's Fall 2021 Colloquium Speaker Series: Racial Justice and Pandemic Realities! This discussion will feature members of The D15 PAR Project, a participatory action research project carried out in collaboration with the DOE and District 15 to develop recommendations for rezoning seven elementary schools in the Red Hook, Gowanus, Carroll Gardens, Cobble Hill, Boerum Hill areas of Brooklyn. We launched the D15 PAR Project in March 2020 - just as the pandemic forced NYC into lockdown. Our work in the D15 PAR Project was to better understand community perspectives and lived experience of educational inequities and to make sense of how rezoning fit in. We had a particular commitment to ensuring that communities historically left out of educational decision-making i.e., Black, Brown, Indigenous, People of Color and NYCHA residents, were centered and in leadership in this process. We turned to critical participatory action research as a community-powered and community-accountable approach to developing educational policy.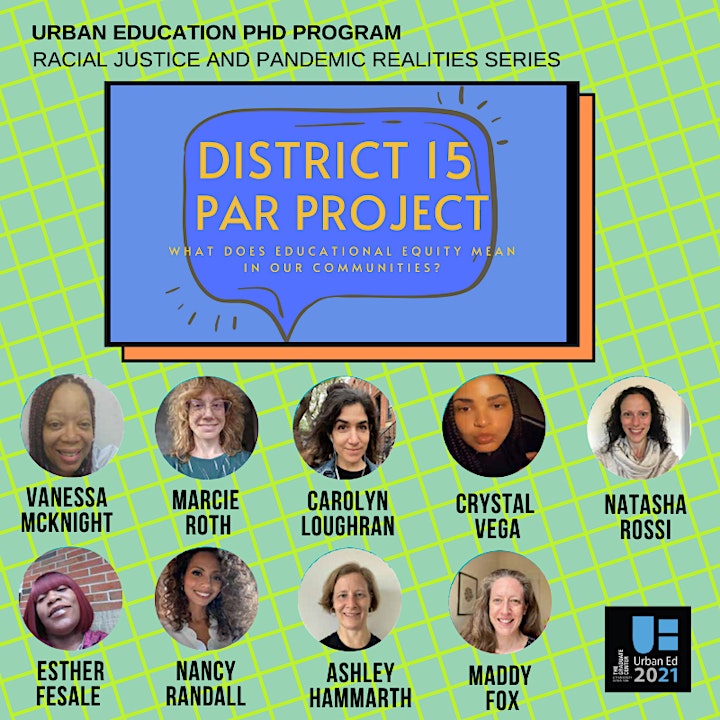 Organizer of What Does Educational Equity Mean in Our Communities?
The Ph.D. Program in Urban Education offers a flexible and interdisciplinary program of study related to curriculum and instruction in urban schools and an analysis of broader social, political, and economic aspects of urban education. The program prepares students with the necessary theoretical and methodological tools to understand urban education as part of other interconnected systems of urban life and to translate research findings into educational practice, policies, curricula, and political action. To learn more about the program, click here.