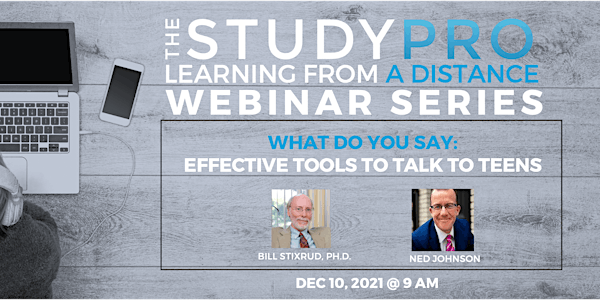 What Do You Say: Effective Tools to Talk to Teens
A guide to effectively communicating with teenagers by the bestselling authors of The Self-Driven Child.
About this event
In our December "Learning from a Distance" webinar, bestselling authors Bill Stixrud, Ph.D. and Ned Johnson, will share effective communication tools that parents can use to best reach their children as they enter middle school and the teen years.
Based on their new book, What Do You Say, How to Talk with Kids to Build Motivation, Stress Tolerance, and a Happy Home, Dr. Stixrud and Mr. Johnson will share:
* How to use empathy and validation to have powerful conversations with your child
* How we can employ the "language of a non-anxious presence" to help children feel heard
* How to use motivational interviewing techniques to help children when they are stuck
It's not the 'what you say' to your children that is as powerful as 'how you say it'. The good news is that effective communication can be cultivated, learned, and taught. And as you get better at this, so will your kids.