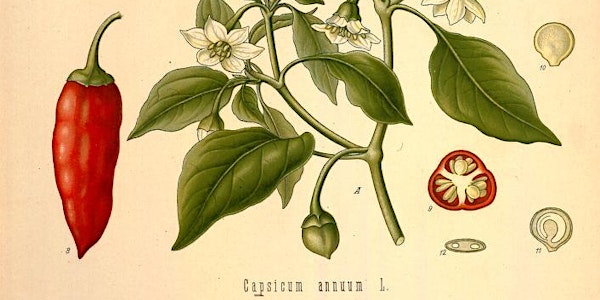 What Darwin Couldn't Know: Modern Perspectives on Crop Plant Origins. Smithsonian Botanical Symposium
When and where
Location
Smithsonian's National Museum of Natural History 10th Street and Constitution Avenue, NW Washington, DC 20560
Description
The Department of Botany and the United States Botanic Garden will convene the 2019 Smithsonian Botanical Symposium, "What Darwin Couldn't Know: Modern Perspectives on Crop Plant Origins," to be held at the National Museum of Natural History in Washington, D.C., on May 17, 2019.
Darwin was not only interested in Galapagos finches, but he also spent a considerable amount of time experimenting and thinking about domestication of animals and plants. He took a dim view of progress in understanding domestication in the vegetable kingdom and wrote, "Botanists have generally neglected cultivated varieties, as beneath their notice" (The Variation of Animals and Plants under Domestication, 1868). This is no longer the case. There is a resurgence of research focused on the plants most essential to human life.
The 17th Smithsonian Botanical Symposium will highlight current research into the domestication of crops and their wild relatives as well as ornamental plants. Speakers will include archaeobotanists, botanists, geneticists, and paleoethnobotanists utilizing molecular and genomic tools unknown to Darwin.
Note: The original title of the symposium, "Beneath their Notice: Domestication of Useful Plants" has officially been changed to "What Darwin Couldn't Know: Modern Perspectives on Crop Plant Origins."


PROGRAM AND SCHEDULE
Friday, May 17
Morning Session
Smithsonian NMNH Baird Auditorium
9:00 a.m. Registration (enter through Constitution Avenue lobby)
9:30 a.m. Opening remarks, Kirk Johnson, Sant Director, Smithsonian NMNH, and Eric Schuettpelz, Chair of Botany, Smithsonian NMNH. Presentation of the José Cuatrecasas Medal for Excellence in Tropical Botany, Kenneth J. Wurdack, Department of Botany, Smithsonian NMNH
10:00 a.m. Allison Miller, Saint Louis University and the Donald Danforth Plant Science Center, Opening Keynote: "What Darwin couldn't know: Modern perspectives on crop plant origins and why it matters for the future of food"
10:45 a.m. Coffee break (2nd Floor Café)
11:15 a.m. Natalie Mueller, Cornell University, "Lost crops and ancient landraces: Deep histories of communities and their crops"
12:00 p.m. Nyree Zerega, Chicago Botanic Garden and Northwestern University, "Seeing the forest for the fruits: Cultivation, domestication, and wild fruit trees in Southeast Asia"

12:45 p.m. Lunch break
Afternoon Session
Smithsonian NMNH Baird Auditorium

2:00 p.m. John Burke, University of Georgia, "Genetics and the evolution of crop plants: Insights from sunflower (and related species)"
2:45 p.m. Briana L. Gross, University of Minnesota Duluth, "Domesticated apple in a global and local context"
3:30 p.m. Coffee break (2nd Floor Café)
4:00 p.m. Logan Kistler, Smithsonian's National Museum of Natural History, "Unraveling the evolution of domestication in maize with ancient genomes"
4:45 p.m. Dolores R. Piperno, Smithsonian National Museum of Natural History, Closing Keynote: "Current perspectives on agricultural origins in the lowland Neotropics"
Evening Events
United States Botanic Garden Conservatory
100 Maryland Avenue, SW, Washington, DC 20001
6:30 p.m. Closing reception and poster session
**ASL Interpreter available upon request**

TICKETS

Two types of tickets are available for purchase (both free of charge):

"General Admission + Evening Reception": access to both the talks and to the evening reception

"General Admission": access to the talks only
To assist us with planning, if you cannot attend the evening reception, please select "General Admission".


CALL FOR POSTERS

Abstracts for poster presentations may be emailed to sbs@si.edu. Poster topics must be related to the study of plant domestication or archaeobotany and contain original research. The deadline for abstract submission is April 12, 2019. Abstract submissions should include the following: Author(s) name(s) including affiliation(s) and email address(es); list the title in sentence case; titles are limited to 150 characters; abstracts may not exceed 1,500 characters including spaces. Posters should be no larger than 30" x 40" (portrait orientation). Presenting authors are required to attend the poster session (6:30 pm – 8:30 pm) to take advantage of opportunities to discuss their work with symposium participants.
OPTIONAL BEHIND-THE-SCENES TOUR
A behind-the-scenes tour of the Joseph F. Cullman 3rd Library of Natural History at the National Museum of Natural History, 10th St. and Constitution Ave. NW, Washington DC, 20560.
Hosted by Smithsonian Libraries
Come explore rare botanical books in the Smithsonian Libraries' Joseph F. Cullman 3rd Library of Natural History. The Cullman Library will have on display for browsing and discussion a wide selection of stunning books highlighting Darwin's publications, medical botany, Native American plant use, and more.
To sign up, please send an email message to sbs@si.edu indicating which of the three tours you would like to attend. First come, first served. A waiting list will be made if needed to accommodate demand. RSVP by Monday, May 13.
Thursday, May 16 at 3:00 - 4:00 pm

Thursday, May 16 at 4:00 - 5:00 pm

Friday, May 17 at 8:00 – 9:00 am
Capacity for each tour is 20 people. Please meet at the T. rex skull in the Constitution Ave. lobby at 5 minutes before the scheduled time.
For more information on the Cullman Library collections, go to http://library.si.edu/libraries/cullman/collections and click on the pdf at the bottom of the page.
Please note: The Cullman Library is a high-security facility; you will be on video camera. No food or drink is allowed in the library. Photography is allowed, but no flash. Clean hands are a MUST for browsing, so please wash your hands before the tour.
---