What Citizens Owe Strangers: Human Rights, Migrants and Refugees - a lectur...
Description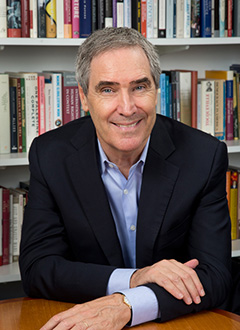 "The age of humanitarian intervention to protect civilians is not over, because civilians keep dying."–Michael Ignatieff, 2014

Michael Ignatieff is an outspoken public intellectual and a prolific writer on political philosophy, international affairs and conflicts caused by ethnic and religious strife. A politician, scholar and journalist, he has applied these perspectives to the study of war, religion, ethnicity and politics, addressing conflict in countries throughout the world. Between 2006 and 2011, Ignatieff was an elected member of the Canadian parliament and leader of the Liberal Party, returning to academia in 2012 at the Munk School of Global Affairs, University of Toronto. In 2014, he was named Edward R. Murrow Professor of the Practice of Politics and the Press at Harvard University's John F. Kennedy School of Government. Ignatieff is the author of seventeen books including Virtual War, winner of the Orwell Prize in 2001, and The Lesser Evil: Political Ethics in an Age of Terror.

Over the past two weeks, Ignatieff's editorial writings have been published in the Washington Post and the Financial Times, and discussions on his stance have been taken up at home and abroad including in Canada's Maclean's Magazine. You can also read a brief Q&A with Ignatieff regarding Syria on the ASU Now website.


This lecture is free but RSVPs are recommended.

This lecture is supported by a grant from John Whiteman and is part of the series Religion and Conflict: Alternative Visions at the Center for the Study of Religion and Conflict at ASU.
Organizer of What Citizens Owe Strangers: Human Rights, Migrants and Refugees - a lecture by Michael Ignatieff