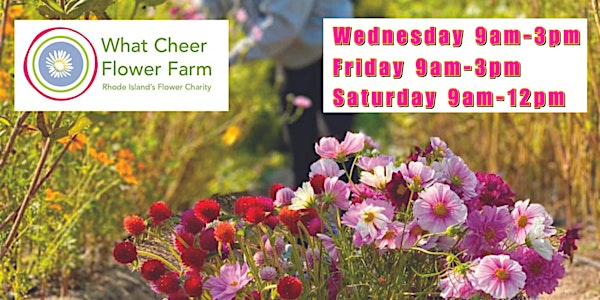 What Cheer Flower Farm Volunteering
Want to be part of our gardening for charity? Come volunteer at the What Cheer Flower Farm! Sign ups are limited to return volunteers only.
When and where
Location
What Cheer Flower Farm 63 Magnolia Street Providence, RI 02909
About this event
We appreciate all of the local support we have received for the What Cheer Flower Farm from the community. Our non-profit mission is continued through your dedication & time, we are truly grateful for the people who volunteer with us.
All return volunteers must register ahead & sign-in at arrival. You can sign up for as many 1hr volunteering slots as you'd like Wednesday through Saturday, there is no minimum requirement of hours per volunteering opportunity. The schedule here reflects check-in times for return volunteers only, it is up to you how much time you'd like to donate to us. We can accommodate scheduling issues for all return volunteers. Please contact farmerflorist@whatcheerfarm.org if you would like to volunteer other hours not listed here.
There are many volunteer opportunities in the gardens at What Cheer Flower Farm, our you can learn how to make floral bouquets that will be given to local charities, and/or we have plenty of light labor & seated tasks available. We also have other volunteer opportunities for all abilities, we also love to partner with our community & neighbors please contact us at Operations@whatcheerfarm.org to organize a group of return volunteers.
We are not open to the public. Volunteers must be ages 14+. Sorry, no young children allowed due to safety. Please note we love & need our worker bees here on the farm, so if you have an allergy to bees please talk to us about other opportunities for volunteers. We also occasionally have stray cats that keep the farm free of rodent takeovers, please take note if you are allergic. No pets other than certified service animals are allowed on the farm. The What Cheer Flower Farm is open for volunteers year-round, with the exception of the end-of-year holiday weeks.
FAQs:
Yes, you can bring a friend, but they must register also. Want to come as a large group? Please contact us at Operations@WhatCheerFarm.org for special arrangements.
We'll provide tools and gloves.
No gardening or floristry experience required.
Do let our team know if you have special skills!
Don't forget bug spray, sunblock, or your hat.
Wear casual clothing, including comfy closed toe shoes (no sandals).
The What Cheer Flower Farm is located at: 63 Magnolia Street, Providence RI 02909
Transit & Parking: There is on site parking, secure bike railings, & we are only two blocks from the Olneyville Square RIPTA bus stop.