What Can YOU do to be Proactive in Your School District
Were you shocked to hear that an ANTIFA member is a high school teacher? Micah Grant is the Board Trustee of Natomas Unified School District
About this event
Were you shocked to hear that an ANTIFA member is a high school teacher? Micah Grant is the Board Trustee of Natomas Unified School District, and he is going to offer advice on how parents can be active in their school boards. We need this now more than ever.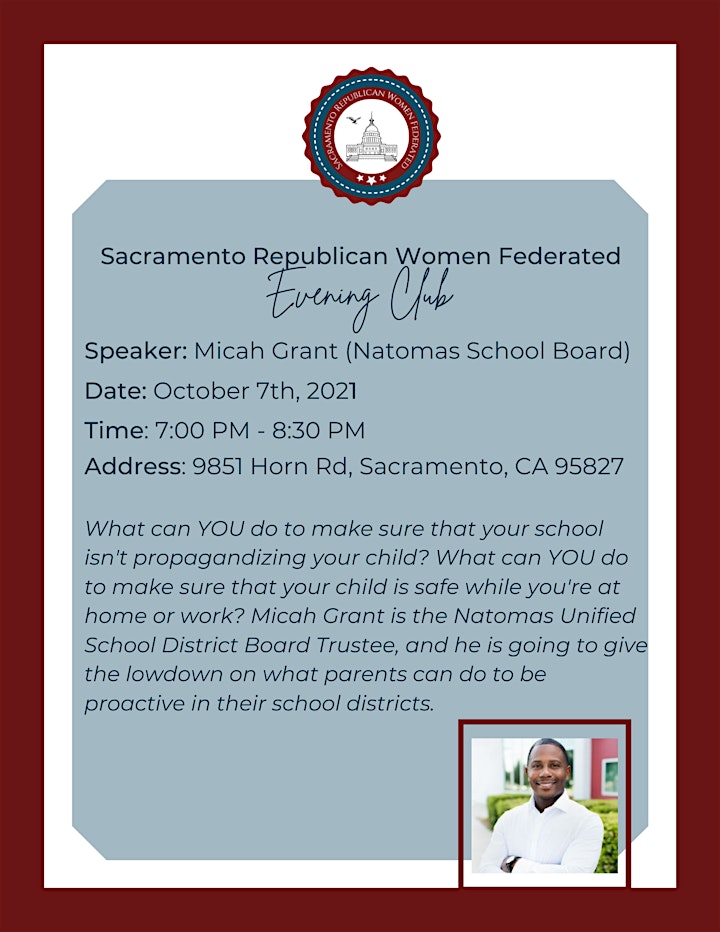 Please note: the purpose of these meetings is to create a place of community for like-minded women. If you are not attending these meetings with this purpose in mind, then you will be asked to leave. Film and photography is limited to members only.
Organizer of What Can YOU do to be Proactive in Your School District
The Sacramento Republican Women Federated's goal is to empower women in politics and actively shape our community through service, legislation, and spreading knowledge. Our evening club allows for women who cannot make general meetings the first Wednesday of the month at 11:00 AM, the option of still meeting with the SRWF. We host speakers monthly, offer snacks, and welcome all women (and men!) with open arms.