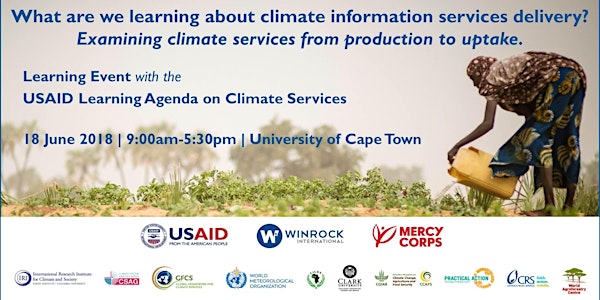 What are we learning about climate information services delivery? Examining...
Location
University of Cape Town
Cape Town, WC 7700
South Africa
Sales Have Ended
Registrations are closed
Thank you for registering and indicating your interest in the event! We will be in touch by May 6th to confirm your participation. Should you have any questions, please contact Fatema Rajabali (fatema.rajabali@fao.org) or Abby Love (alove@mercycorps.org).
Description
Overview:
Building on the 2018 Adaptation Futures Conference theme, "Dialogues for Solutions", the USAID-funded Learning Agenda on Climate Services in sub-Saharan Africa is organizing a one-day workshop to present preliminary research findings and garner feedback on its work to date, and foster dialogue between the climate services and adaptation communities. The event, hosted by the Climate Systems Analysis Group at the University of Cape Town, will bring together researchers, practitioners, private sector and NMHS actors to discuss climate information services (CIS) demand, supply, and emerging models for CIS delivery.
This event seeks to stimulate rich discussions on the delivery and uptake of sustainable and user-centered CIS in sub-Saharn Africa and develop a common vision on how to move forward with the findings that are emerging from this learning agenda. A draft agenda will be shared with all registered participants in late-April 2018.
Due to limited space, please express your interest in participating in our event by registering.

Funding information:
You will need to be a self-funded participant. There is no registration cost for this event. Lunch and snacks will be provided.

Contact information:
For more information please contact: Fatema Rajabali (fatema.rajabali@fao.org) or Abby Love (alove@mercycorps.org).


---
More Information about the Learning Event
Climate services constitutes a diverse range of activities and actors involved in the production, translation, communication, and uptake of climate information. The CIS value chain in Africa and elsewhere consists of multiple actors, including data producers (from external data providers to in-country data providers), communicators, policy makers, researchers, donors and users. For a CIS system to deliver climate services that result in socio-economic benefits, all of these actors, from producers to end users, need to effectively work together.
The workshop sessions will explore three frontiers of CIS research that address how to bring the CIS value chain actors together and deliver meaningful change for stakeholders:
Who are CIS users and what information do they need? Harnessing the power of participatory approaches. Projected climate impacts are likely to compromise current development efforts throughout Africa. The overarching goal of enhancing the uptake of climate services is to provide people and organizations with reliable, timely, user-friendly information tailored to reduce climate-related losses, and optimize opportunities for development. It is therefore critical that climate services are driven by demand based on identified needs. This requires co-producing, translating and packaging technical information for different people in a variety of ways so that they can make well-informed, timely decisions that will support livelihood and food security.

Moving towards sustainable CIS supply: Advancing the evaluation of CIS production and delivery. No institution works alone in producing CIS, and sustainable CIS provision in Africa must include the National Meteorological and Hydrological Services (NMHS) who have a mandate to deliver reliable and accessible climate and weather information. This session will examine how CIS sustainability can be measured at a national level, including metrics to assess the capacities of NMHS, and innovative ways of delivering CIS that provide evidence-informed solutions vital for implementation and delivery of the Paris Agreement, Agenda 2063 (Africa We Want) and the 2030 Agenda for Sustainable Development in Africa.

Emerging models for demand-driven CIS delivery: lessons learned from the private sector and social inclusion. Production and delivery of CIS must be supported by solid scientific evidence, derived from applied research knowledge, and implemented through partnerships among public institutions, the private sector, civil society and vulnerable communities, embedding intersectoral dialogue. This session will examine emerging models for CIS delivery, including how gender-sensitive markets and business models can support more sustainable and demand-driven CIS delivery.