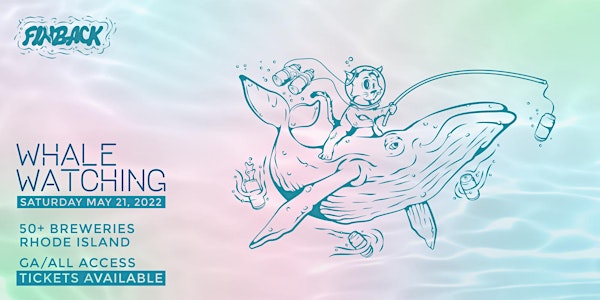 Whale Watching 2022
Finback Brewery's first-ever beer festival!
When and where
Location
Blackstone River at Roosevelt Avenue and Exchange Street 249 Roosevelt Avenue Pawtucket, RI 02860
About this event
We are supremely excited to announce that our first-ever beer festival is ON! So let's all gather to do some Whale Watching. No binoculars needed.
We've assembled a lineup of over 50 of the most exciting and acclaimed breweries, many of which have never been available in Rhode Island, to serve you their finest beers overlooking the beautiful Blackstone River in Pawtucket. There will be delicious food options from popular local restaurants, new limited-edition merchandise, WHALE SIGHTINGS, and plenty of special surprises.
We hope you're ready to dive in and vibe.
Here are the ticket types for the inaugural Whale Watching fest:
All Access VIP | $180
Early entry, at 12:30 p.m.
Two (2) exclusive Whale Watching 2022 stout bottles, limited to 100 bottles each
One (1) four-pack of IPA
Ambassador-curated beer share
Special stemmed tasting glass
Unlimited sampling of beers from 50+ breweries
General Admission | $80
Souvenir tasting glass
Unlimited sampling of beers from 50+ breweries
BREWERY LIST
3 Sons
450 North
Aardwolf
Aslin
Barrier
Bluejacket
Bottle Logic
Burial
Burley Oak
Burnish + Fourscore
Buttonwoods
Casa Agria
Cellador Ales
Cerebral
Charles Towne Fermentory
Civil Society
Commonwealth
Cushwa
Dancing Gnome
Deciduous
The Eighth State
Equilibrium
Fast Fashion
Fidens
Foam
Fox Farm
Froth
Great Notion
Horus
Hudson Valley
Human Robot
J. Wakefield
Kings
Long Live Beerworks
Magnanimous
Magnify
Moniker
Narragansett
Narrow Gauge
North Park
Origin Beer Project
Other Half
Proclamation
Resident Culture
Sand City
Schilling
Southern Grist
Tilted Barn
Tripping Animals
TRVE
Two Tides
Unseen Creatures
Untitled Art + Funk Factory
Vitamin Sea
Voodoo
Weathered Souls
Widowmaker
FOOD
The Highroller Lobster Co.
Ming's Asian Street Food
PVDonuts
Trap Box PVD
FAQ
WHERE CAN I PURCHASE TICKETS?
Here! Scroll up. Advance tickets can only be purchased online, on this Eventbrite page.
CAN I PURCHASE TICKETS AT THE FESTIVAL?
Yes, as of right now, we will have a very limited number of tickets available at the door. But that is subject to change, so check here as the date gets closer.
WHAT ARE THE FESTIVAL HOURS?
The festival will begin at 12:30 p.m. for All Access ticket holders. An hour later, at 1:30 p.m., we will begin entry for general admission ticket holders. We will start checking IDs and scanning tickets for both groups at 11:00 a.m. The festival will end for all ticket holders at 5:00 p.m.
WHAT DO I NEED TO ENTER?
Your ticket and a valid ID are required to enter the festival.
CAN I PRINT MY TICKET?
Yes, you can use a printed ticket to enter, as long as the QR code is displayed. You can also save your ticket to your mobile device for easier access.
WHAT IF I DID NOT RECEIVE MY TICKET?
Please check your spam folder first. If you did not receive your tickets, please send us a note by clicking the "contact" button on this page.
WHAT IS THE REFUND POLICY?
There will be no refunds, unless we cancel the festival for any reason. All sales are final.
WHAT IS THE PARKING SITUATION?
We strongly recommend that attendees use ride-sharing services such as Uber and Lyft or public transportation to get to and leave the festival. We will email a map of approved festival parking to all ticket holders prior to the date.
HOW MUCH BEER DO I GET?
Attendees are guaranteed unlimited two-ounce samples as part of their ticket.
WILL THERE BE FOOD AT THE FESTIVAL?
Food will be available for purchase from several local food trucks, which will be located near the entrance of the venue. The full list of food vendors will be posted on this page shortly.
IS OUTSIDE FOOD ALLOWED?
No, all outside food is prohibited.
WILL THERE BE NON-BEER OPTIONS?
We will have FREE water available at the festival, and food vendors will have other non-beer options for purchase.
ARE CHILDREN OR INFANTS ALLOWED TO ATTEND?
No, all attendees must be 21 years of age or older to enter the festival.
ARE PETS ALLOWED TO ATTEND?
No, pets are not permitted at the festival. However, service dogs, but not emotional support animals, are allowed. Be prepared to provide proof of license or certification.
CAN I BRING IN BEER?
No, outside beer in any form is prohibited. No exceptions.
CAN I BRING IN A BAG?
Yes, small bags and backpacks are allowed, but they will be checked by security upon entry.
CAN I BRING IN A CHAIR?
No, chairs or any other type of seating are prohibited.
WHAT IF IT RAINS?
The festival is rain or shine! Bring an umbrella.
I LOST MY ID. CAN I STILL ENTER?
Yes, with a valid passport. That is the only other form of identification we will accept.
CAN I REENTER THE FESTIVAL?
Yes, you will be allowed reentry with a valid wristband.
WHAT ARE THE STOUTS INCLUDED IN THE ALL ACCESS TICKET?
Delicious ones. Stay tuned!
WHO DO I CONTACT REGARDING PRESS OR MEDIA?
For media inquiries, please contact niko.krommydas@finbackbrewery.com.
MY QUESTION WASN'T ANSWERED IN THIS FAQ.
Sorry! Send us your question by clicking the "contact" button on this Eventbrite page.
WILL THERE BE ACTUAL WHALE WATCHING AT THE FESTIVAL?
That depends on your definition of whale watching. Kidding! No, there will be no actual whale watching at the festival. And, yes: we've had people ask. ;)