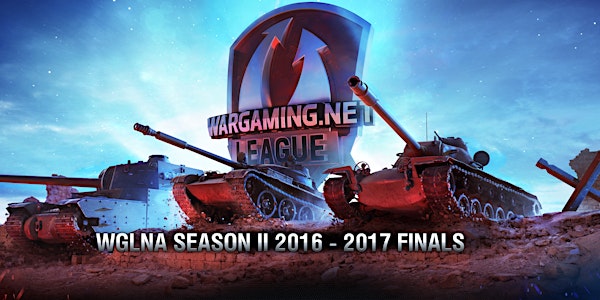 WGLNA S2 2016-2017 Finals
When and where
Location
ESL Studios 1212 Chestnut Street Burbank, CA 91506
Description
Join us for the WGLNA World of Tanks Gold League Season 2 2016-2017 Regional Finals on April 8th at the ESL Studios in Burbank, California!
North America's best World of Tanks teams will battle it out for a share of the US$325,000 prize pool and the regional championship title. Witness the excitement live at the ESL Studios to see firsthand who will come out on top.
Entrance is free and seating is only limited by available space!
Saturday, 4/8/2017 starting at 1:00 PM PST
Doors to the studio lot will open at 12:00 PM. Be sure to get there before the show goes live at 1:00 PM PST so you can meet up with Chris "Yoott" Karlewicz, Christine "Dance" Ansell and Nicholas "Chieftain" Moran.
Our WGLNA pro players and personalities will be around as well, including legendary memelord Zachary "NinjaGumby" Trimble and Joshua "Unknown0ne" Neuenhoff for all you fantasy league fanatics!
Attendees will be eligible to win signed t-shirts in addition to bonus codes for tanks, gold and credits.
Don't have a Wargaming account? Not to worry, we'll help you set one up in person!
Follow us on Twitter and Facebook for more news leading up to the event.
Parking will be available at the Racer's Edge lot which is also on Chestnut Street. Please be sure to obey all posted signs and warnings.