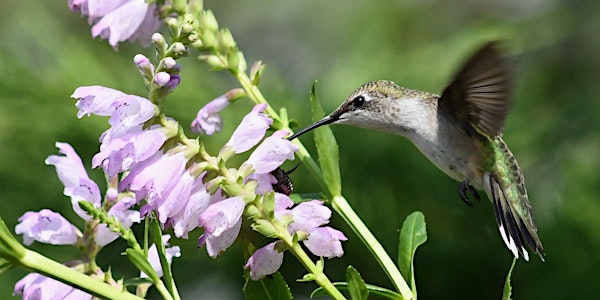 WGLBBO Free Webinar Series: Help Birds, Pollinators and Your Community
Join us to learn about birds, pollinators and water quality and how to protect them in your own backyard!
About this event
Each month we will be hosting one or two webinars on how to make your corner of the world better for your feathered, winged, and aquatic neighbors. Check back for more details on upcoming programs.
Please feel free to register even if you can't attend. We will be sending a link to the recording to all registrants.
Our platform only allows 150 attendees, so please log in on time or a couple of minutes early to ensure you can get in. If you are unable to attend for any reason, we will send a link to the recording the day after the webinar to all registrants.
Future webinar topics will include native plant gardening, residential green infrastructure, hazards to birds, impacts of Emerald Ash Borer, and more! Stay tuned to our social media and your inbox for updates.
October 19, 2022: Wisconsin Salt Wise - The Ecosystem Impacts of Road Salt Use
Description: Once salt goes down, it doesn't go away. Salt levels are rising up in lakes, streams, and drinking water across the country. Harm to native freshwater organisms can occur at both the species and ecosystem levels lowering rates of growth and reproduction through osmotic stress, reductions in food source, and altered biogeochemistry. We'll break down the science of freshwater salinization and build up the case for smarter salting in your communities.
PAST WEBINARS
September 7, 2022: EAB (Emerald Ash Borer) Recovery and Mitigation in the Lakeshore
Presenter: Jim Kettler, Director of Projects, Lakeshore Natural Resources Partnership
Description: The Emerald Ash Borer or EAB has decimated forests in southeastern Wisconsin counties, and is now impacting the northern counties along the Lake Michigan coastline. LNRP launched a collaborative effort with the Sheboygan Rotary club with the Restoration of Our Trees Sheboygan or ROOTS.
The project builds on state and FS grants, ongoing projects, and established relationships with local governments, state and federal agencies, and nonprofit partners. Project sites are strategically selected to maximize water quality benefits within the Great Lakes watershed, by targeting the restoration of canopy cover on a diverse array of landscapes including public parklands, priority wetlands, and riparian habitats.
The presentation will showcase the private-public partnership and demonstrate the urgency of addressing the impact of EAB.
August 10, 2022: Avian Vision, Window Collisions, and How You Can Save Birds
Presenter: Bryan Lenz, American Bird Conservancy, Glass Collision Manager, and Bird City Americas Director
Description: Join us for a presentation by American Bird Conservancy's Dr. Bryan Lenz to discuss the scale of the window collision problem, how birds see the world, the science behind collisions solutions, and what you can do to keep your windows from killing birds.
Bio
As Collisions Campaign Manager, Bryan's goal is to reduce the collision threat that the built environment, especially glass, poses to birds. To be successful, Bryan has to work on numerous fronts, including research, design, legislation, building code, education, outreach, and marketing. The target audience includes just about everyone - elected officials, private citizens, public employees, architects, corporations, universities, and anyone else who has the power to influence the design of new buildings or the operation of existing buildings (including homes).
Bryan joined ABC after working as the Director of the community conservation program Bird City Wisconsin and as the Chief Scientist at the Western Great Lakes Bird & Bat Observatory. He has also played a critical role in the development of the Midwest Migration Network.
July 12, 2022: Understanding the Hazards Birds Face
Presenter: Marge Gibson, Co-Executive Director, Raptor Education Group Inc (REGI)
Description: The list of hazards is long ... toxins, lead poisoning, fishing line entanglement, fungal and bacterial infections at feeders or feeding stations, illegal shootings, and more. We can all work to make the world a safer place for birds. Join Marge Gibson to learn what role we can play.
May 11, 2022: The Importance of Green Infrastructure
Presenter: Chris Schultz, Senior Project Manager, MMSD
Description: You can help improve water and air quality, reduce the risk of sewer problems, beautify your neighborhood, and "green" your corner of the world by adopting a simple practice or two! Join us to learn how you can help protect our rivers and lakes by managing water where it falls on your property. Chris Schultz from the Milwaukee Metropolitan Sewerage District (MMSD) will give an overview of green infrastructure strategies that can be applied to residential properties as well as services and resources that are available from MMSD and Fresh Coast Guardians.
April 13, 2022: Personalizing Your Yard with Natives
Presenters: Danielle Bell, Owner, Native Roots; Jill Kunsmann, Observatory board member, Jenn Phillips-Vanderberg, Western Great Lakes Bird and Bat Observatory
Description: Join this round-table discussion to learn the inside story on the gardening challenges and personal interests native plants can address in our yards. Whether it is a special growing condition, a desire to attract butterflies and birds, or simply discovering some really cool "must-have" plant; you can count on an energetic conversation from our four presenters. Are you just getting started with native plants? Danielle Bell, owner of "Native Roots," and one of our Neighborhood Habitat Improvement Project (NHIP) partners, will be on hand to share helpful information on site analysis and the location of beds. Bring your questions!
March 9, 2022: Beyond the Flower Bed - Gardening with Native Trees and Shrubs
Presenter: Erik Desotelle
Description: Don't have time to maintain flower beds? Shrubs and trees may be the answer. Many of our native shrubs/trees; in addition to being great for the birds, butterflies, and pollinators; provide a showy display of blooms, great fall color, and bring four-season interest to your yard. Learn about some must-have native plants that can be great alternatives to the common lilac, burning bush, and barberry. There is a great native shrub/tree for just about any type of soil, sun, or moisture condition. Bring your questions and let Erik Desotelle, native plant expert from our partner organization, Johnson's Nursery, inspire you.
February 9, 2022: Bird Coloration
Presenter: Jenn Phillips-Vanderberg, Western Great Lakes Bird and Bat Observatory
Description: To shake off the muted tones of winter, Jenn will be presenting about bird coloration. This will include the mechanisms animals use to produce color, how diet affects color, why birds are the color they are, and mysteries that scientists still don't understand. You'll learn why many males are flashier than females (but not all!), why it seems like there are only females of some species in the fall, and what colors of common Wisconsin species are "telling" their conspecifics. Bring all your questions about bird colors. With your help, we can have a fun start to our webinar series.