The Wabash Frisco & Pacific is open for limited operations in 2021! Check out the event page for more details.
About this event
Tickets are now $15 per car
We will not have tickets per person, only per car. A passenger car can accommodate approximately 2 adults and 3 children . For larger groups, please reserve an appropriate number of cars.
Trains will run on a strict schedule
If you miss your reserved train, you will not receive a refund or tickets for a later train. Your reservation will be considered a donation to the railroad.
In accordance with the guidelines laid out by the federal, state, and local health departments, our seating capacity is reduced. Trains will be able to accommodate approximately up to 30 passengers. Mask are required while in the station and any time social distancing is not possible. Each ticket reserves one car that can hold 2 adults and 3 children on average**. there will be an empty car between each ticketed car.
Our Volunteers will be sanitizing facilities throughout the day, and after each train ride
All volunteers are wearing face masks and are screened at the beginning of each day
We will continue to monitor the COVID-19 situation as it develops and follow the guidelines laid out by local officials.
**Passengers with mobility issues must contact the ticket office via email prior to visit so that we can prepare an appropriate car for their needs.
Please see the below infographic to see how we are working to provide a safe and fun experience for your family:
**Ticket is only valid for the date and time ordered. Ticket donations are non-refundable. The Wabash, Frisco, & Pacific Railroad Association reserves the right to substitute equipment or motive power and to alter published fares, times of operation, and destination as mechanical or operating conditions require, without notice.**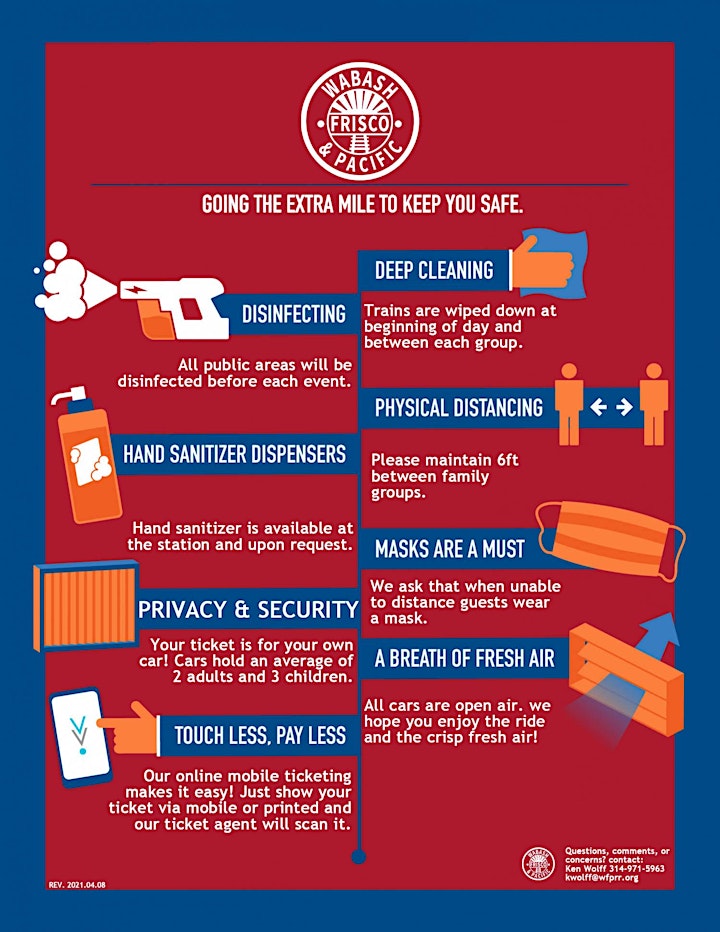 Organizer of WF&P Train Rides May 16, 2021
All Aboard the Wabash, Frisco, and Pacific!
"The Uncommon Carrier"
The Wabash, Frisco, and Pacific Railroad invites you to come aboard our 12 inch gauge live steam railroad! The ride is a two mile round trip lasting about 40 minutes and travels along the scenic Meramec River.
Operated by an all volunteer staff, the WF&P was organized in 1939 and began operations near Brown Road and Natural Bridge. Since 1961, we have continued this fine tradition in Glencoe (Wildwood), Missouri providing families a look back into history. We are proud to be considered one of the top family attractions in the St. Louis area. Thank you for helping us keep the history of steam railroading alive!