Location
Henry Ford Museum
20900 Oakwood Boulevard
Dearborn, MI 48124
Refund policy
Contact the organizer to request a refund.
Eventbrite's fee is nonrefundable.
WFG Spark22 Regional | Midwest
About this event
Why should you put the Spark22 Regional | Midwest event on your must-do list?
We asked YOU, the title professionals, what you needed most as you head into a fast-changing 2022.
And you said CONTENT – actionable content!
Content that you can quickly implement and that will help drive your bottom-line success.
What comes next now that Spark22 Orlando has successfully concluded for another year?
Spark22 Regional!
A sales, marketing and technology event hosted in local markets around the country focused on providing you with:
Simple tools to fuel sales and enable growth.
Actionable strategies to create connections and drive business.
And an understanding of what's ahead for our digital future.
Whatever your business size, you will walk away with usable strategies, quick solutions, and simple tools to fuel YOUR sales, enable YOUR growth, and propel YOUR company into the future.
Join WFG National Insurance Company, in collaboration with WEST* on May 11, 2022, as we kick off the Spark22 Regional event tour!
The Spark22 Regional | Midwest Event is located at The Henry Ford Museum, Lovett Hall
20900 Oakwood Blvd, Dearborn, MI 4812
Click here to download the Lovett Hall Event Parking Map.
*WEST, a Williston Financial Group company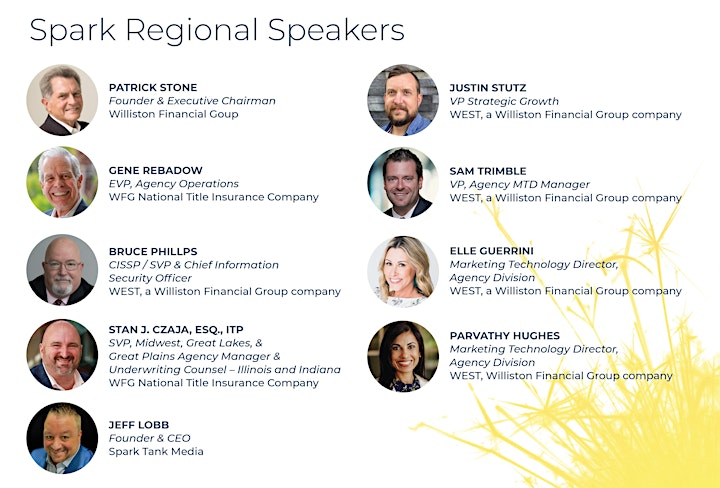 Event Agenda
May 10, 2022
8:00 pm: Spark Speaker Meet & Greet: located at The Henry Hotel, Tria Bar
May 11, 2022
8:30 am: Registration Opens
8:30 – 9:40 am: Breakfast
9:40 – 10:00 am: Cyber 411 Podcast: Bruce Phillips, CISSP / SVP & Chief Information Security Officer for WEST, a Williston Financial Group company and Stan Czaja, Esq., ITP SVP, Midwest, Great Lakes, and Great Plains Agency Manager & Underwriting Counsel – Illinois and Indiana for WFG National Title Insurance Company
10:00 – 10:45 am: Industry-Economic Forecast: Patrick Stone, Founder & Executive Chairman, of Williston Financial Group
10:45 – 11:30 am: How to Attract and Maintain Real Estate Business: Jeff Lobb, Founder & CEO of SparkTank Media
11:30 – 12:00 pm: Keeping and Creating Loyal Clients: Sam Trimble, VP, Agency MTD Manager, for WEST, a Williston Financial Group company
12:00-1:00 pm: Lunch
1:00 – 1:45 pm: Content to Reach Your Real Estate Audience: Justin Stutz, VP of Strategic Growth, for WEST, a Williston Financial Group company
1:45 – 2:15 pm: Top Sales & Marketing Myths: Busted!: Sam Trimble, VP, Agency MTD Manager, for WEST, a Williston Financial Group company
2:15 – 2:45 pm: Social Strategies to Grow Resale Business: Jeff Lobb, Founder & CEO of SparkTank Media
2:45 – 3:00 pm: App Wrap: Jeff Lobb, Founder & CEO of SparkTank Media, Parvathy Hughes, Marketing Tech Director, Elle Guerrini, Marketing Tech Director for WEST, a Williston Financial Group company
3:00 – 3:15 pm: That's a Wrap
Do you need to make hotel reservations?
If so, please contact the WFG Events team directly for availability at The Henry, Autograph Collection Fairlane Plaza, 300 Town Center Drive, Dearborn, MI 48126
*To request a room email us at wfgagencyevents@wfgtitle.com. Please include dates for when you plan to arrive and depart.
Marriott's COVID-19 Commitment to Clean policies can be viewed in further depth here: Commitment to Clean
WFG Spark22 Regional | Midwest COVID-19 Guidelines
The health and safety of all attendees and our staff is our top priority. National, state and local guidelines are changing quickly, so we wanted to provide you with our safety guidelines. We will provide additional details as guidelines change and we get closer to Spark22 Regional | Midwest.
We are encouraging everyone to be safe and healthy during Spark22 Regional | Midwest
All attendees will receive face coverings and hand sanitizer at registration.
To prevent the further spread of COVID-19, The Henry Ford Museum recommends that all guests, regardless of vaccination status, wear masks indoors and outdoors when not socially distanced while visiting Henry Ford Museum, Lovett Hall. The Henry Ford COVID-19 FAQs can be reviewed in further depth here: Health & Safety FAQs.
Attendees may choose to mask at any time. Attendees who are immunocompromised or at high risk of severe illness (including Covid-19) should talk to their healthcare provider about whether a mask is recommended.
Hand sanitizer dispensers or sanitizing wipes will be located prominently throughout the event space.
WFG will also offer Safety Stations with sanitizer on the conference floor.
Socially distanced seating options will be available, upon request.
The CDC and local health authorities recommend the following preventative actions to help prevent the spread of the respiratory viruses including:
Washing hands often with soap and water for at least 20 seconds or an alcohol-based sanitizer with at least 60% alcohol.
Avoid touching eyes, nose, and mouth with unwashed hands.
Covering your nose and mouth when coughing or sneezing. Throw used tissues in the trash.
Cleaning and disinfecting frequently touched objects and surfaces using a regular household cleaning spray or wipe.
Adhere to social distance protocols put in place by the event organizers and respect others' personal space.
Go to the event First Aid office (or equivalent) at any time, if you feel unwell or are experiencing flu-like symptoms.
*The above items are subject to change based on the state and local guidance at the time of the event. WFG looks forward to seeing you soon!