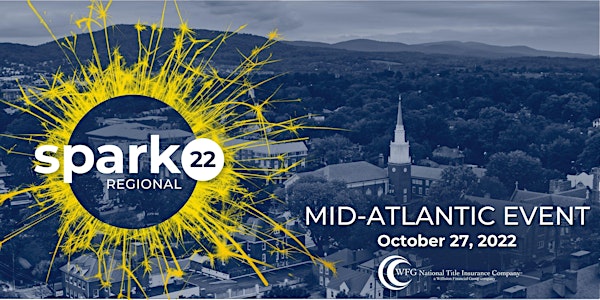 WFG Spark22 Regional | Mid-Atlantic
WFG Spark22 Regional |Mid-Atlantic
By WFG National Title Insurance Company
Date and time
Thursday, October 27, 2022 · 8:30am - 3pm EDT
Location
Falls Church Marriott Fairview Park 3111 Fairview Park Dr. Falls Church, VA 22042
About this event
Why should you put the Spark22 Regional | Mid-Atlantic event on your must-do list?
We asked YOU, the title professionals, what you needed most as you head into a fast-changing and uncertain 2023.
You said CONTENT – actionable SALES content you can quickly implement to drive your bottom-line success.
Attend the Spark22 Regional | Mid-Atlantic event, and you can expect to walk away with:
Simple tools to fuel sales and enable growth.
Actionable strategies to create connections and drive business.
And an understanding of what's ahead for the future of the real estate industry.
Whatever your business size, you will walk away with usable strategies, quick solutions, and simple tools to fuel YOUR sales, enable YOUR growth, and propel YOUR company into the future.
Join WFG National Title Insurance Company, in collaboration with WEST* on October 27, 2022, as conclude the Spark22 Regional event tour!
*WEST, a Williston Financial Group company
Spark22 Regional | Mid-Atlantic Event Schedule
Falls Church Marriott Fairview Park: 3111 Fairview Park Drive, Falls Church, VA 22042
Thursday, October 27, 2022
8:30 am: Registration Opens
8:30 – 9:45 am: Breakfast
10:00 am: Morning Session Begins
12:00-1:00 pm: Lunch
3:00 pm: Event Concludes - Reception to follow
Do you need hotel reservations?
Please get in touch with the event team directly at wfgagencyevents@wfgtitle.com.
WFG Spark22 Regional | Mid-Atlantic COVID-19 Guidelines
Our top priority is the health and safety of all attendees and our staff. National, state and local guidelines are changing quickly, so we wanted to provide you with our safety guidelines. We will provide additional details as guidelines change and we get closer to Spark22 Regional | Southwest.
We are encouraging everyone to be safe and healthy during Spark22 Regional | Mid-Atlantic.
All attendees will receive hand sanitizer at registration.
Attendees may choose to mask at any time. Attendees who are immunocompromised or at high risk of severe illness (including Covid-19) should talk to their healthcare provider about whether a mask is recommended.
Hand sanitizer dispensers or sanitizing wipes will be located prominently throughout the event space.
Socially distanced seating options will be available upon request.
The CDC and local health authorities recommend the following preventative actions to help prevent the spread of the respiratory viruses including:
Washing hands often with soap and water for at least 20 seconds or an alcohol-based sanitizer with at least 60% alcohol.
Avoid touching eyes, nose, and mouth with unwashed hands.
Covering your nose and mouth when coughing or sneezing. Throw used tissues in the trash.
Cleaning and disinfecting frequently touched objects and surfaces using a regular household cleaning spray or wipe.
Adhere to social distance protocols put in place by the event organizers and respect others' personal space.
Go to the event First Aid office (or equivalent) at any time if you feel unwell or are experiencing flu-like symptoms.
*The above items are subject to change based on the state and local guidance at the time of the event. WFG looks forward to seeing you soon!