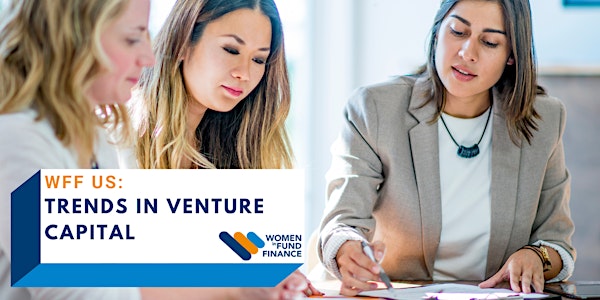 WFF US: Trends in Venture Capital
Join us Thursday, April 8, 2021, for the upcoming WFF US event, Trends in Venture Capital!
By Women In Fund Finance, part of the Fund Finance Association
Date and time
Thursday, April 8, 2021 · 11am - 12pm EDT
Location
Virtual Call EST New York, 10018
About this event
Why is Venture Eating The World?: A Look into the Highly Creative, High Demand and Ever Evolving World of Venture Capital
Venture Studio, Early Stage, Venture Debt, SPACs and beyond… Please join us for an engaging discussion with four distinguished industry leaders who will share their insight on trends, opportunities, solutions and lessons learned in this perfect storm venture market that is transforming private equity as a whole.
Moderator:
Laura Hope, DBS Bank Financial Institutions Head, the Americas
Panel Members:
Sarah Anderson, Partner, Vault Fund
Zack Ellison, Managing General Partner, Applied Real Intelligence
Veronica Juarez, Scout, Lightspeed Venture Partners
Tim Schigel, Managing Partner, Refinery Ventures
About the Panelists
Laura Hope, Moderator: Laura Hope is DBS Bank's Head of Financial Institutions Group, the Americas. She is responsible for relationship management and client coverage of Banks, Insurance Companies, Financial Sponsors, Asset Managers, Broker Dealers, and Government Agencies in both the US, Canada and select Latin American countries.
Laura has over 25 years of specialized experience successfully leading and growing businesses within the Financial Institutions sector. Her career path has included leadership positions at RBS, ABN AMRO, Societe Generale, and Wells Fargo. She carries deep experience and expertise in both the equity and debt capital markets arenas, as well as corporate banking, including transaction services and lending– where she has originated, structured, and successfully syndicated multi-type credit facilities for premiere global insurers, financial sponsors, and other institutional investors.
Laura is formally credit trained, is active in several industry organizations, including Women in Fund Finance, and has been a BAFT Annual Conference guest speaker. She is a Maysles Documentary Center Board of Directors member; Applied Real Intelligence Advisory Board member; a recipient of the 2020 United Way of New York, The Power of Women to Make a Difference honor; and has partnered with various philanthropic organizations including, The Ford Foundation, The Kennedy Center and Girl Scouts of America, just to name a few. Laura holds a BA in Finance and Psychology from Rutgers University and has completed the Kellogg Graduate School of Management, Northwestern University Executive Programs: Investment Banking and Corporate Finance Intensive Training Program.
Sarah Anderson, Panelist: Sarah has over 12 years of private equity and banking experience and has been investing in early stage venture for >8 years. Prior to founding Vault Fund, Sarah was the Fund Manager at The Cintrifuse Syndicate Fund. Cintrifuse is a strategic fund of funds with > $100M in AUM, investing in early-stage venture capital funds across the country. Investors in the Cintrifuse Syndicate Fund include P&G, Kroger, Great American Financial, Smuckers, Western Southern and several other large corporations across the Midwest. The Fund invests primarily to provide access to innovation for its member corporations. Sarah's investments at Cintrifuse included Atlas, Atomic, Greycroft, Lerer, Upfront, Madrona, and Revolution Ventures.
Prior to her role at Cintrifuse, Sarah worked with early stage venture funds and technology companies during her career as Vice President at JP Morgan in San Francisco, and as an investment banker at the Royal Bank of Canada (RBC). Sarah received her Bachelors of Science from the University of Florida, where she was a pole vaulter on the Women's Track and Field team. Sarah earned her MBA from UCLA's Anderson School of Management.
Zach Ellison, Panelist: Zack Ellison, CFA, CAIA, is the Managing General Partner and Chief Investment Officer of Applied Real Intelligence ("A.R.I."). A.R.I. is a Los Angeles-based venture debt investment manager focused on providing financing solutions to innovative, high-growth, VC-backed companies in recession-resistant sectors and underserved regions. Mr. Ellison leads A.R.I.'s investment activities, including sourcing, due diligence, structuring, execution, and portfolio management.
Previously, Mr. Ellison was Director, U.S. Public Fixed Income at Sun Life Financial, where he was responsible for corporate credit investing. Prior to Sun Life Financial, he was a corporate bond and credit default swap trader at Deutsche Bank. During the Global Financial Crisis, he was a banker focused on leveraged loans within the media and telecom sectors at Scotiabank.
Mr. Ellison is a frequent speaker at financial industry conferences, where he has presented his views on how companies and the financial markets need to innovate, adapt, and evolve to optimize risk and return. He has been a featured speaker at events hosted by CFA, CAIA, Risk Magazine, Euromoney, Bloomberg, TABB Forum, 100 Women in Hedge Funds, WBR's Fixed Income Leaders Summit, and Private Equity Wire, among others.
Currently, Mr. Ellison is a Board Member of the CFA Society of Los Angeles, a Board Member of the Southern California Chapter of the CAIA Association, and the West Coast Regional Director of the Hedge Fund Association. Additionally, he is the Chair of the CIO Advisory Council and Chair of the University Relations Committee with CFA Society Los Angeles. He sits on various leadership sub-committees of Tech Coast Angels (TCA), the largest angel investing group in the United States.
Veronica Juarez, Panelist: As a fifth-generation Mexican-American from Houston, Texas, and a first-generation college graduate, Veronica is passionate about creating access and opportunity for low-income and vulnerable communities. Veronica is interested in companies that address societal inequities, and under-represented founders and operators. Veronica currently works as the Area Vice President for Social Enterprise for Lyft, Inc, building the company's business for government agencies and non-profit organizations. She serves on the board of Movimiento de Arte y Cultura Latino Americana (MACLA), a contemporary Latino arts organization, is a Venture Partner for Vamos Ventures, a VC fund that supports Latinx entrepreneurs, and since 2020 is a Scout with Lightspeed Venture Partners. Veronica enjoys traveling, the outdoors, and breaking bread with family and friends. Veronica is a proud native Houstonian, home of her family's infamous taqueria, Villa Arcos. She is a graduate of Phillips Exeter Academy and Stanford University and resides in West Hollywood, CA.
Tim Schigel, Panelist: Tim is a serial entrepreneur and investor with roots in the Midwest, experience in Silicon Valley, and connections around the world.
Tim created ShareThis, a social media pioneer that nearly a billion people use to share online content every month. ShareThis, based in Palo Alto, CA, was one of the fastest growing companies in the country, growing to $50 million in less than four years which earned him the EY Entrepreneur of the Year in his region. Tim also launched and managed Cintrifuse, one of the best performing fund of funds in the country, investing in 15 top-tier early stage funds across the U.S. Tim has been in venture capital since 1998. Prior successes include Advertising.com (AOL), Get2Chip (Cadence), DotLoop (Zillow).
In 2017, Tim founded Refinery Ventures, investing in early scale hypergrowth companies. Refinery Ventures is dedicated to bridging the gap and mentoring our teams between post-seed and Series A funding.
Tim grew up in Cleveland as the son of a steelworker and Vietnam veteran. He received his B.S. in electrical engineering from Case Western Reserve University and is a Member of YPO, a global network of chief executives.
Event Information
Date: Thursday, April 8, 2021
Time: 11:00 am- 12:00 pm EST 
Location: Virtual (Zoom)
About the organizer
Women in Fund Finance is focused on the increased engagement, recognition and promotion of women leaders within the alternative investment fund finance industry. 
Founded and supported by the industry association, the Fund Finance Association, our goal is to help women succeed through global connections, education and professional advocacy. 
Through networking and special events, Women in Fund Finance provides women in fund finance the opportunity to share accomplishments, experiences and advice.