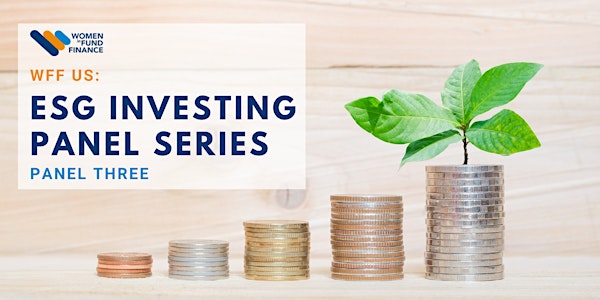 WFF US- ESG Series III: Financing Green/Blue Infrastructure
Join us Wednesday, July 14 for the upcoming WFF US virtual event, ESG Series III: Financing Green/Blue Infrastructure!
About this event
"Green" and "sustainable" infrastructure projects have been getting increased attention in the last few years, and have been front and center in discussions in the U.S., Europe and elsewhere about how to "Build Back Better" after Covid-19.   This new ESG-themed panel from Women in Fund Finance will explore different types of sustainable infrastructure projects and the various aspects of financing them.
Topics will include: 
Why we must embrace ways to mitigate climate change and other environmental degradation; how doing so creates economic opportunity and promotes environmental justice. 
Why "green" infrastructure and why now?  
The expanding definition of "green" infrastructure
Financing It:  Project Capital Stacks
Types of "green" or "social" infrastructure projects: what needs do they address and how do they fit into the UN SDGs, risk reduction and economic and job growth?  How does "capacity-building" fit in?
Speakers:
Shari Siegel (Moderator)
Tim Guinee- Climate Reality Project
Bryan Kearns- Bank of America
Sridhar Nagarajan- Standard Chartered
Julie Prescott- Meridiam
Event Information
Date: Wednesday, July 14, 2021
Time: 11:00 - 12:15 pm EDT 
Location: Virtual (Zoom)