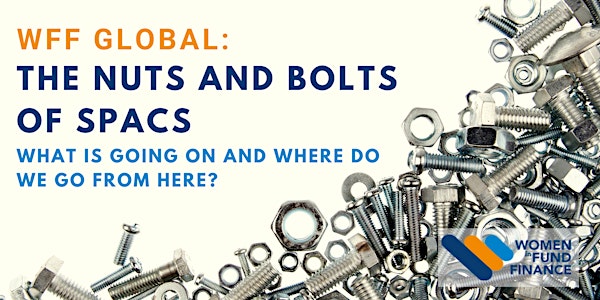 WFF Global: The Nuts and Bolts of SPACs
Join us Thursday, April 22, 2021, for the upcoming WFF Global: The Nuts and Bolts of SPACs!
When and where
Location
Virtual Call EST New York, 10018
About this event
The SPAC Market
Review of the current market- filings and mergers announcements
SPAC Formation – characteristics, business case, timeline & life sponsor and founder considerations
The IPO Process – SPAC vs Direct IPO
Looking for Targets – hunting, confirming the growth analysis and public value add
De-SPACing Process – business combination, proxy and shareholder vote, PIPE amount
SEC Reporting and Accounting Considerations
The winning teams
What the future holds
Moderator:
Alexandra Lebenthal - Senior Advisor, Financial Sponsors Group, Houlihan Lokey
Panel Members:
Edward Best - Partner, Mayer Brown LLP
Gus Garcia - President & Director , G | SPACs
Beth Michelson - Management Team, Cartesian Growth Corporation SPAC
Lauren Rosa Sangaline - Tax Managing Director, KPMG
Andrew Stull - Managing Director Board Advisory Services and Opinion practice, Houlihan Lokey
About the Speakers
Alexandra Lebenthal, Moderator:
Alexandra Lebenthal is a Senior Advisor in the Financial Sponsors Group at Houlihan Lokey where she leads an initiative focused on female led and founded companies. Prior to joining Houlihan in August 2020, she was the CEO of Lebenthal Holdings, a diversified financial services firm that included the nation's largest woman-owned broker dealer. Coming from a storied Wall Street family, her grandparents, Louis and Sayra Lebenthal, founded Lebenthal & Co., Inc, a municipal bond specialist, in 1925. Her father, Jim Lebenthal, created a mass market for municipal bonds, and was known as the spokesman for the industry.
After starting her career at Kidder Peabody, Ms. Lebenthal joined Lebenthal in 1988 and became President and CEO in 1995 at the age of 31. She was also President of Lebenthal Funds, overseeing the firm's mutual and money market funds. After successfully diversifying the firm beyond municipal bonds, Alexandra engineered its sale in 2001 to The Advest Group, remaining at the firm until it was subsequently sold to Merrill Lynch in 2005. During that time, in addition to managing Lebenthal, she also ran marketing and municipal capital markets for the parent company. She started anew in 2007, building Lebenthal Holdings into an asset management, wealth management and capital markets boutique. Lebenthal was the number one woman-owned firm in debt and equity capital markets from 2012-2016.
A passionate supporter of women in business, Ms. Lebenthal was named one of the top 50 Women in Wealth Management by Wealth Manager Magazine, as well as Private Asset Management. She has also been named to the Crain's New York Top Women-Owned Businesses and the Crain's Fastest 50 Growing Businesses in New York.
Ms. Lebenthal has extensive public and private board experience. She currently is an advisory board member for Interprice Technologies. She is as a former board member and Treasurer of the Securities Industry Financial Markets Association (SIFMA). She is a member of C200, the leading organization for female businesswomen.
Ms. Lebenthal is the Co-founder of "The Women's Executive Circle," and "Women On Wall Street", which cultivates high-profile Jewish women under the auspices of United Jewish Appeal. She is also a spokesperson for Insightec Targeted Ultrasound, a ground-breaking procedure for Essential Tremor she underwent in 2016.
Ms. Lebenthal's first novel, "The Recessionistas," a thriller set in Manhattan during the financial crisis, was published in August 2010.
A graduate of Princeton University with an A.B. in history, Ms. Lebenthal lives in New York City with her family.
Edward Best, Panelist:
Edward ("Eddie") Best is a partner in Mayer Brown's Chicago and New York offices and co-leader of the firm's Global Capital Markets practice. Eddie represents a broad range of U.S. and international companies, investment banks/financial intermediaries and investors in capital markets and M&A transactions, with a particular emphasis on transactions involving financial institutions. Recently, Eddie has spent a significant portion of his time involved in transactions involving SPACs, including IPOs, business combinations and PIPE transactions. Eddie also advises clients with respect to corporate governance, securities laws and general corporate matters.
Eddie has been recognized in, among others publications, Chambers USA, Legal500 and "Best of the Best" Expert Guides,. Eddie has been named by BTI Consulting three times as a Client Service All-Star. Eddie as also the inaugural recipient of the Mayer Brown Diversity Champion Award.
Eddie received his law degree from Loyola University of Chicago in 1986 and his undergraduate degree in political science from the University of Illinois at Urbana-Champaign in 1983. Eddie joined Mayer Brown in 1986.
Gus Garcia, Panelist:
Gus Garcia is Co-President & Director of G | SPACs, a platform SPAC team that is initially sponsoring and managing Graf Acquisition II, III and IV. Mr. Garcia is the former Head of SPAC M&A for Bank of America, where he spent the last 14 years and was responsible for advising private companies and SPACs on all aspects of mergers involving SPACs. Over the last 12 months, Mr. Garcia has advised on 11 SPAC transactions with ~$20 billion in negotiated equity value. For the transactions that have already closed, the median percentage of SPAC shareholders that redeemed for cash is below 1%. The five most recently announced SPAC transactions that Mr. Garcia advised on are the sale of Spire Global to NavSight Holdings, the sale of Origin Materials to Artius Acquisition Inc., the sale of Owlet to Sandbridge Acquisition Corp., the sale of XOS to NextGen Acquisition Corp. and the acquisition of EVgo by Climate Change Crisis Real Impact Acquisition Corp.
In addition, Mr. Garcia has worked on and overseen transactions with an excess of $150 billion in value across PIPEs, corporate separations and other mergers & acquisitions. Prior to being the Head of SPAC M&A, Mr. Garcia led the separations practice for Bank of America where he focused on complex corporate transactions such as spin-offs (including one of the top 5 largest spin-offs in corporate history), split-offs, reverse morris trusts, carve-out IPOs and structured private capital raises. Prior to the merger with Bank of America, Mr. Garcia worked at Merrill Lynch in the Corporate Finance group where he also focused on complex corporate transactions, as well as structured investments held on the bank's balance sheet in partnership with Merrill Lynch's Global Principal Investment group. Prior to Merrill Lynch, Mr. Garcia worked in HSBC's Healthcare Investment Banking Group and, prior to HSBC, he worked in Wells Fargo Securities' M&A group. Mr. Garcia also sits on the Board of Directors for New York Cares, the largest volunteer network in New York City.
Mr. Garcia graduated magna cum laude with a Bachelor of Science in Business Administration and a Master of Science in International Commerce & Finance from Georgetown University in 2003.
Beth Michelson, Panelist:
Beth Michelson is a member of the management team of Cartesian Growth Corp (NASDAQ: GLBLU), a SPAC targeting transnational businesses. Ms. Michelson has 20 years of experience building businesses globally as a Senior Managing Director of Cartesian Capital Group, a New York City-based global private equity firm, since its inception, and previously with AIG Capital Partners and Wasserstein Perella. She has led investments and acquisitions across 20 countries. Ms. Michelson brings deep knowledge of digital infrastructure, Industry 4.0, automotive parts, and renewable energy. Ms. Michelson currently serves on the board of directors of Thermal Management Solutions (UK), Brilia (Brazil), and BTS Torres (Latin America), Replications, and the Global Advisory Board of Columbia Business School Chazen Institute for Global Business. Ms. Michelson was selected as a 2019 92Y Women in Power Fellow. She is a member of Women Corporate Directors, 100 Women in Finance, and the Private Equity Women's Investor Network. Ms. Michelson has an MBA from Columbia University Graduate School of Business, an MIA from Columbia University School of International and Public Affairs, and a BA with distinction from the University of Michigan. She is also a Chartered Financial Analyst. Beth lives in NYC with her husband and two daughters.
Lauren Rosa Sangaline, Panelist:
Lauren Rosa Sangaline is a Tax Managing Director in KPMG's Mergers and Acquisitions tax practice and leads the Southeast's partnership transactions group. She advises private partnerships in many industries on planning and transactions, including the IPO process. Lauren Rosa also advises private equity, SPACs, and strategic buyers on tax advantaged investments in partnerships. Prior to joining KPMG's Southeast practice, Lauren Rosa was director of partnership planning overseeing $40B of assets in partnership solution for a large private conglomerate.
Lauren Rosa graduated from Cornell University and received her JD and LLM at Villanova School of Law. She joined KPMG's Philadelphia tax practice in 2008.
Andrew Stull, Panelist:
Mr. Stull is a Managing Director in Houlihan Lokey's Board Advisory Services and Opinion practice. He regularly advises boards and special committees of public companies in a range of corporate transactions, including take-privates, controller buyouts, recapitalizations, spinoffs, and M&A transactions in which certain conflicts are present, as well as advises general partners of funds in sponsor-backed company recapitalizations, fund-to-fund transfers, portfolio company combinations, and fund recapitalizations. He is based in the firm's Atlanta office.
More broadly, Mr. Stull's investment banking experience includes M&A advisory, management/employee buyouts, recapitalizations, debt and mezzanine financings, strategic alternatives evaluations, corporate valuations, and advising fiduciaries on fairness and solvency opinions.
Before opening Houlihan Lokey's Atlanta office, Mr. Stull helped start and build the firm's Washington, D.C., office in 1993. Mr. Stull has been involved in a wide range of industries, including consumer products, financial services, industrials, retail, media, and healthcare, and is a member of the firm's Fairness Opinion Committee.
Mr. Stull earned a B.S. in Finance from Clemson University and holds the designation of Chartered Financial Analyst.
Event Information
Date: Thursday, April 22, 2021
Time: 11:00 am- 12:15 pm EDT 
Location: Virtual (Zoom)