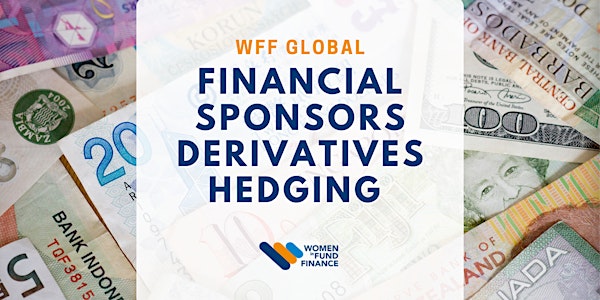 WFF Global: Financial Sponsors Derivatives Hedging
Join Women in Fund Finance on November 17 from 11 am - 12 pm EST for our next event, Financial Sponsors Derivatives Hedging!
About this event
Women in Fund Finance invites you to join a panel event focusing on derivatives hedging strategies employed by private funds. We will be joined by four panelists with a wealth of experience in managing market risk in the private funds space. With backgrounds at Funds, Banks and Derivatives Advisors, they will provide a comprehensive view on how derivatives hedging has evolved in both US and European markets.
We will be discussing FX hedging strategies employed by private funds; managing market risks during the pandemic; regulatory change and the impacts on legal documentation; the role of FX Advisors; and understanding how LPs think about market risk management.
Moderator:
Georgia Curtis - Vice President, Financial Sponsors FX Solutions, Lloyds Bank North America
Speakers:
Michaela Beck - Associate, Derivatives & Liability Management, KKR
Bryan Cohen - Managing Director, Head of US Client Coverage, Validus Risk Management
Alison Irvine - Associate Director, Sponsors Risk Management, Lloyds Bank UK
Joe Rocco - Managing Director, Blackstone Treasury
Georgia Curtis
Georgia has worked in banking for 7 years, the majority of that time spent in Financial Markets, working with private funds to structure and execute FX, Interest Rate and Commodities transactions to hedge market risk. She spent the first half of her career working for Lloyds Bank in London, covering the Bank's European client set, and subsequently transferred to LBCM in New York to help build out the US Financial Sponsors hedging business. She holds a Bachelor of Science degree in Economics with Study in Europe from the University of Bristol, and spent a year studying Economics at l'Université Bordeaux Montaigne in France.
Michaela Beck
Michaela joined KKR in 2021 in Global Macro, Balance Sheet & Risk where she focuses on private and public markets derivative risk management, responsible for foreign exchange and interest rate hedging strategy, structuring and execution across all KKR funds and associated investments. Prior to joining KKR, she was with Morgan Stanley in their Corporate Derivatives Group. She holds a B.S. in Quantitative Economics from Tufts University.
Bryan Cohen
Bryan has 15 years of experience working in capital markets and has been focused on derivatives and risk management for the majority of his career. He spent the first half of his career covering corporates and private capital managers across interest rate and FX risk solutions. Most recently, he was at Goldman Sachs where he managed risk management strategy and execution for the firm's private equity, credit, real estate and infrastructure funds. Bryan holds a bachelor's degree in Industrial Engineering and Economics from Northwestern University and is also a CFA charterholder.
Alison Irvine
Alison has spent 6 years working in Financial Markets looking after Institutional clients and Financial Sponsors providing bespoke solutions to meet their financial risk management needs. She currently focuses on supporting Financial Sponsors with FX at both the fund and the manager level and additionally works with ABS SPVs and their sponsors to structure interest rate hedging and comply with rating agency requirements. Before working in Markets she completed credit analysis of Private & Institutional funds to support their lending & hedging requests. She holds an MA in Economics and Mathematics from the University of St Andrews, Scotland and is a CFA charterholder.
Joe Rocco
Joseph Rocco is a Managing Director in Blackstone Treasury and is involved in credit and risk management initiatives, including risk assessment for the firm's cash management and investment strategies. He works closely with counterparts from throughout the firm and its funds on funding initiatives and FX hedging and trading strategies. Prior to joining Blackstone, Mr. Rocco worked at Moody's Investors Service covering residential mortgage and asset-backed securities where his primary responsibilities included rating surveillance, methodology development and sector commentary. Mr. Rocco holds an MBA from New York University's Stern School of Business and a BS in Finance from Fordham University.
Event Information
Date: Wednesday, November 17, 2021
Time: 11:00 am - 12:00 pm EST 
Location: Virtual (Zoom)
Subscribe to Women in Fund Finance