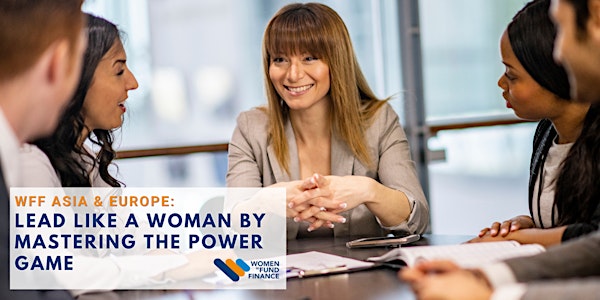 WFF Asia & Europe: Lead Like a Woman by Mastering the Power Game
Join us Tuesday, May 11, 2021, for the upcoming WFF Asia & Europe event, Lead Like a Woman by Mastering the Power Game!
About this event
You've made your way in a male-dominated industry, but do you still sometimes feel off-balance at work, like you're playing a game that wasn't created for you? Well, you are. It's called the "Male Power Game," and once you know how it's played, you can use it to your advantage to get what you want.
Your intelligence, grit, and hard work have gotten you far. Leveraging the Male Power Game can help you get all the way to whatever is next for you.
What Does it Mean to Be Powerful?
Are you embracing your power or giving it away? Are you aggravated by sexist treatment, or do you neutralize it on the spot? Do you stand for your principles in every moment, or does a fear of confrontation sometimes get in the way? Learning how to be powerful is what this event is about.
Embrace your power, and your life will open up, not just at work, but in every other area, too.
Speaker:
Julie Zuraw, COO, Argo Real Estate; CEO, The Julie Zuraw Group