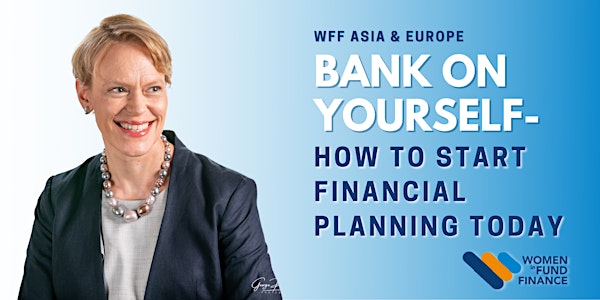 WFF Asia & Europe: Bank On Yourself – How to start Financial Planning today
Join us Thursday, June 17 from 4 - 5 pm HKT/ 9 - 10 am BST for the next WFF event, Bank On Yourself – How to start Financial Planning today!
About this event
In this session, Jessica will speak about the importance of having a financial plan and the dos and don'ts of planning. Leave the session with concrete action steps to take right away!
This session will cover the following questions:
Why develop a financial plan? Why is having a clear investment strategy important and how do you get started?
What makes investors successful? What does a solid financial plan look like over time?
What to Avoid? Common mistakes people make.
What to do if you are doing it yourself? Reliable resources.
What to do if you are working with an advisor? Reliable resources.
Other key components: tax planning, estate planning, and budgeting
Speaker:
Jessica Cutrera, Partner, Capital Company
Jessica has been serving families in Asia since 2003, specializing in Americans and international clients with cross border needs. She co-founded the Capital Company at the beginning of 2017 as a leading independent asset management and financial planning firm, bringing her experienced team to join a new expanded international practice.
Prior to her time at The Capital Company, Jessica co-founded EXS Capital Asia Limited in early 2008, running the firm's wealth management practice. She served as a Responsible Officer and head of Operations and Compliance for the firm until the end of 2016. She and her team built a substantial asset management and financial planning practice during their time at EXS, which is part of the core of The Capital Company today.
Jessica is an expert in many areas including tax, financial, investments, and estate planning and specializes in serving Americans, US taxpayers and US investors living in outside the US. She and her team provide fee-based comprehensive wealth management and planning services and advise on a variety of complex family matters.
Before she moved to Tokyo in 2003, Jessica worked as a Registered Representative for Charles Schwab. She continues to be licensed in the U.S. today as a Registered Investment Advisor, insurance professional, and Trust and Estate Practitioner. While in Tokyo she completed her MBA at Temple University Japan and moved to Hong Kong in late 2007 to set up her own business.
Jessica lives in Hong Kong with her husband and two children. She is active in the American Chamber of Commerce in Hong Kong and supports a variety of non-profit organizations around the region. Jessica's planning practice including providing pro- bono financial planning to women facing the loss of a spouse through death or divorce and advocating for domestic workers facing healthcare or employment crises. Jessica is an avid traveller and adventure racer.
Event Information
Date: Thursday, June 17, 2021
Time: 4:00 pm- 5:00 pm HKT / 9 - 10 am BST
Location: Virtual (Zoom)