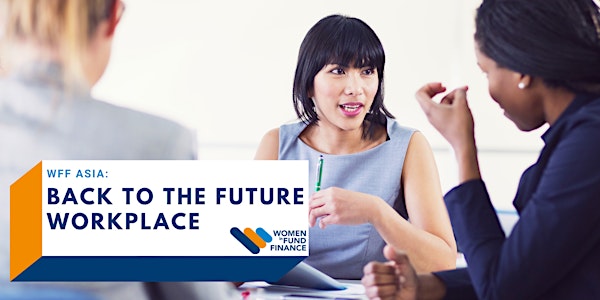 WFF Asia: Back to the Future Workplace
If you have registered for the event and require assistance, please contact Anzeventssg@anz.com.
When and where
Location
Virtual Call Hong Kong/ Singapore Hong Kong
About this event
With 2020 behind us, and 2021 steaming ahead, the topic that has been at the front of most organisations' minds is how to get employees back to the office, and what the new workplace is going to look like. Taking an Asia lens on this topic, industry experts will discuss how this is evolving across the APAC region, how these changes will impact employees, and how female employees and leaders can best navigate the return to the office.
Panelists:
Niamh Targett – Head of Coverage, Fund Finance Asia, ANZ
Sunainika Saigal – Human Capital Workforce Transformation, Deloitte Consulting SEA
Fiona Ang - Employee Journey Expert, ANZ
Pattie Walsh – Partner, Bird and Bird
About the Speakers:
Niamh Targett
Niamh has over 20 years of banking experience across London and Asia. Niamh heads the Fund Finance team for Asia at ANZ Hong Kong. The team provides private capital firms in Asia with subscription facilities, hedging support and cash management solutions, along with financing for real estate assets in target locations.
Sunainika Saigal
Sunainika has 20 years of industry and consulting experience. She brings a breath of understanding in end to end digital transformation and depth of experience in helping organisations, their leadership, and people master the transition to this new world. Her core capabilities lie in focusing on organisational and behavioural change, workforce transformation, and diagnosing human capital requirements to create effective solutions to support career and talent development
Having worked across financial services industry, consumer products and retail, higher education, and public sector she brings a fresh perspective on how to apply best practice in any client context. She is recognised for guiding teams through complex projects, providing strong direction and flexibility for them to be creative and shine. Sunainika leads with empathy to successfully deliver on agreed outcomes for organisations, their people, and customers
Fiona Ang
Fiona has over 10 years of experience in management consulting and in industry in the fields of organisational development and change and transformation. As an organisational psychologist she specialises in the science of behaviour in the workplace and has led multidisciplinary teams to deliver large-scale change projects to enhance the employee and customer experience. Recently, she has been leading the change management on ANZ's approach to what the future of working looks like for the global organisation.
Pattie Walsh
Here at Bird & Bird, I am a partner in our international Employment group and head of our AsiaPac employment team. I am also a member of our Board.
I am currently qualified to practise in Hong Kong, Australia and England. This reflects my recent history where I have been lucky enough to be based in London, Sydney and Hong Kong. At the moment my base is Hong Kong but I regularly meet and work with clients across AsiaPac, in the UK and the US. I have had a long-term interest and developed expertise in the PRC. As a result, I spend a significant amount of time working with organisations as they navigate the complexities of doing business in China. Being based in Asia, we tend to work across the whole of AsiaPac and our team manages projects and employment law challenges wherever our clients have people. We cover all aspects of employment law; I spent five years as a barrister in London and so enjoy both the contentious and advisory side of the practice. Alongside day-to-day employment advice, I also enjoy being part of the key strategic conversations that are taking place around the globe as organisations seek to embrace a rapidly changing environment. I have been talking publicly and with clients about a variety of topics. These range from ethics in the workplace, to embracing 5G and increased workforce digitisation.
My Admissions
Admitted as a Member of Inner Temple 1992
Law Society of England & Wales in 2000
Law Society of Hong Kong in 2006
Law Society of New South Wales, Australia in 2012
Event Information
Date: Tuesday, April 27, 2021
Time: 3:00 pm- 4:00 pm HKT 
Location: Virtual (WebEx)