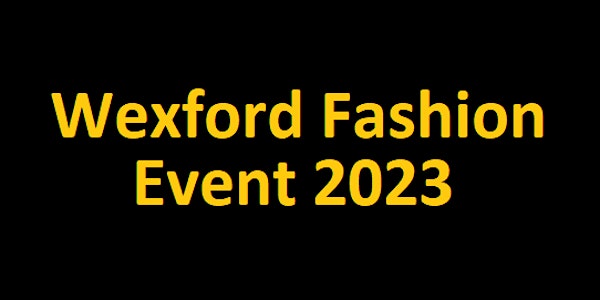 Wexford Fashion Event 2023
Wexford's fashion event of the year - a spectacular fundraising fashion show in association with Clayton Whites Hotel
By Our Lady's Island NS PA Events Committee
Date and time
Fri, 7 Apr 2023 18:00 - 23:00 IST
Location
Clayton Whites Hotel Abbey Street Wexford Ireland
About this event

Wexford's Fashion Event 2023
This is the perfect gift for anyone wanting an amazing memorable night out with friends or colleagues or just as a gift to your deserving self to enjoy just for being you 🙌
What to expect:
Glass of Prosecco on arrival…
Photograph area featuring a stunning backdrop thanks to Mary @The Flower Pot…
No.58 Goody bags to the first 100 attendees…
More Goody bags up for grabs with products from EKKO Health and Beauty, Jaymee's Health & Beauty and Tranquillity Spa at Clayton Whites Hotel as well as some other surprises…
Make up Demonstration by the wonderful Caitlin Sinnott from Ekko Health and Beauty…
Menswear by Charles Pierce Menswear, modelled by some extremely well known local surprise GUEST models which you won't want to miss…
An amazing professional rigged lighting display to add to the entire vibe…
Music on the night provided by DJ Micko
Clothing from some of our favourite Wexford based stores including No.58, New Mood Boutique and Pamela Scott modelled by some familiar faces in the female ranges too!
One lucky winner will win the Door Prize compliments of Clayton Whites Hotel
Vouchers sponsored by participating stores as well as other local businesses will be up for grabs in a raffle that will be amazing .. ' If your not in you can't win ' so we suggest buying your raffle tickets on the door
To add even more flavour to this event, local businesses will be selling a variety of items at stands on the night encompassing a variety of accessories and creativity such as a wellness stand by Ekko Health & Beauty, Anne Doyle will sell and display exclusive items by @Page Ceramics, Susan Wilkes Lynch will be present with a Tree Of Growth holistic stand, New Mood will house a stand with wonderful accessories, Caroline @Hats Hautecouture will have handmade hats … and many more
As if this wasn't enough.. we will have an EXCLUSIVE unveiling of our local talented designer Elena Turcan's very own designs which are being sketched and created exclusively by Elena @In Stitch for the lucky people of Wexford and will be unveiled on the night !…
The bar will be open throughout the night…
I don't think Wexford has seen a night quite like this before so give the perfect gift to your partner and maybe friends for Valentines Day or for any upcoming birthdays or just gift this to yourself to have a brilliant night out. Perhaps local businesses would like to offer this as a social night for staff .
On behalf of the Parents Association for Our Lady's Island NS we thank you for all of your support in advance in this fundraiser which will bring funds to our school to make our little people's lives even more fulfilled with learning, creativity and joy.
To conclude … To all the people of Wexford and beyond - let's SAVE THE DATE - Good Friday 7th April 2023 @ Clayton Whites Hotel Wexford - Bring on the Fashion Event of the Year 🙌🤗