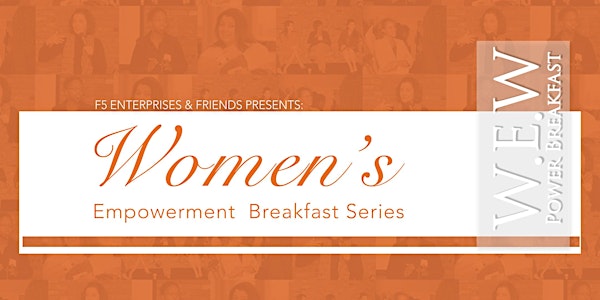 W.E.W Power Breakfast, 2018
When and where
Location
Carriage House at the Howard Steamboat Museum 1101 Market Street Jeffersonville, IN 47130
Description


5th Annual W.E.W 2018 , Power Breakfast
Date: Friday,November 16, 2018
Time: Doors Open at 7:30am,
Program Begins 8:30am - 12:30am
*Full Breakfast Menu (Buffet opens at 8am)
Location: Carriage House at the Howard Steamboat Museum
1101 Market Street
Jeffersonville, IN 47130
Early Ticket: $40/Person or Table $320 (seats 8)
Early Tickets Closes - Friday Nov 9, 2018
*Full Breakfast Menu
Door Tickets: $45/Person or Table $360 (seats 8)
If you would like a purchase or sponsor a table please contact Miguel H.

Republic Bank 2018 Speakers!
---

W.E.W Host: Teah Williams Hampton, LCSW,
Featured Speakers for 2018:
1. Jessica Taylor,
Entrepreneur, Speaker, Educator and Founder of New Living
2. Michelle Huber,
Director of Marketing of Fuzzy Zoller's Covered Bridge & Champions Pointe Golf Clubs
3. Jesika Young,
President/CEO of Cimtech Inc.
---

W.E.W Power Breakfast series, serves as an opportunity for extraordinary women from all walks of life to inspire and equip women to live their lives, on their terms.
The most powerful asset we have in our society, are the women who have chosen to lead, become professionals, elected officials, business owners and last but not least Mothers. One woman alone is great and will change many lives, but many women together empowering each other will change the world.
At the annual W.E.W Breakfast, professionals, entrepreneurs, young professionals, and community leaders will converge to have an authentic conversation about life, in the pursuit of success, family, happiness, wealth and equality. The Breakfast offers professional development for attendees, an opportunity to advance skills, network with peers and be inspired by women who are making an impact in our community.


---
W.E.W Objective:
· Connect with distinguished women with diverse backgrounds from around the region
· Network, exchange ideas, and build relationships with like minded women
· To empower women to overcome life, career and family obstacles and to find their voice
· To create a platform that will empower our young girls to grow into strong women
· To create a network of peer to peer mentoring and further development
· To support higher education for women

15% of all proceeds will go to fund the Women Empower Women Scholarship.