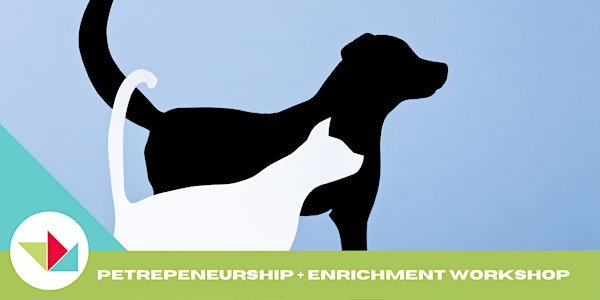 WEW 2021 Petrepreneurship and a DIY Enrichment Workshop with Lori Riegler
WEW 2021 Petrepreneurship and a DIY Enrichment Workshop with Lori Riegler of Off Leash MKE and Kitty in the City MKE
Refund Policy
Contact the organizer to request a refund.
Eventbrite's fee is nonrefundable.
About this event
What You Can Expect:
Are you curious about what it takes to launch the kind of business that allows you to spend the day with your four-legged friends? Do you have dreams of cuddle-fests during overnight stays with kittens and puppies while their humans are traveling? And, let's keep it super real, are you OK with getting your hands (and clothes!) dirty while doing some heavy duty on the job clean-up?
If you're answering "Yes!" to any of these questions, then petrepreneurship just might be a great career choice for you.
But even if you're not interested in swapping your 9-5 for dog walks right now, you're going to enjoy this session! You'll be able to listen to the adventures and behind-the-scenes stories of running a pet-focused business. And, if you happen to have some dogs and cats in your own home, you're going to love the enrichment activity that's baked into this session so you can make a busy box for your own furry family.
Whatever your connection to animals, you're going to love the learning opportunities and hands-on nature of this session!
The People Involved:
This session will be led by Lori Riegler–the owner of Off Leash MKE Dog Walking Service, Adventure Club for Dogs, and Brew City Kitties Cat Care.
In 2015 Lori started volunteering as a dog walker at Wisconsin Humane Society, and shortly after moved up to veterinary services, working with the intake animals, in addition to volunteering for Pets for Life, a community outreach program. Lori received training in behavior and first aid, including the administration of medications, special diets, subcutaneous fluids, and gained invaluable experience handling hundreds of dogs and cats.
In 2020 Lori became Fear Free Certified and became a certified Puppy Start Right Instructor through the Karen Pryor Academy.
Lori is passionate about rescue, and volunteers for Friends of MADACC and Urban Cat Coalition. She is mom to Aria, and fur kids, Cooper, Chaos, Rascal, Dahlia, Brewster, Finch and Granita.
Lori loves to talk about music and food. Before she moved back home to Milwaukee in 2009 Lori owned Gourmet Recordings and had an 18 year career in the music industry working in marketing and PR, event production, and managed the careers of major label recording artists. Before music she went to culinary school and worked in and helped open some of Chicago's top dining and entertainment establishments.
About WEW 2021:
Women's Entrepreneurship Week is a proud Milwaukee brand with a global focus. We're sharing the stories of local women and their organizations–while we engage in thoughtful conversations with leaders everywhere.
Our conference events are held annually during Global Entrepreneurship Week (November) and National Entrepreneurs Week (February) – with specialized programming, workshops, and conversations held throughout the year.
We celebrate the opportunity to collaborate, create, and amplify big ideas and important actions! These events highlight the power of women everywhere–but all participants and supporters are welcome.